RENOWNED BRAIN IMAGING EXPERT NAMED CHAIR OF DEPARTMENT OF PSYCHIATRY AND BEHAVIORIAL SCIENCE AT STONY BROOK UNIVERSITY
8/29/2012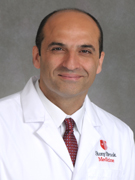 Dr. Ramin Parsey to increase research on origins of psychiatric disease, expand services
Ramin Parsey, MD, PhD, has been appointed Professor and Chair, Department of Psychiatry and Behavioral Science of the Stony Brook University School of Medicine, and Director of Positron Emission Tomography (PET) Research, announced
Kenneth Kaushansky, MD
, Senior Vice President, Health Sciences, and Dean, Stony Brook University School of Medicine.
As Professor and Chair of Psychiatry and Behavioral Science, Dr. Parsey will further Stony Brook Medicine's strategic goal of translating cutting-edge biomedical science into diagnostic, therapeutic and prognostic advances. He leads a department that includes 43 faculty, a multitude of clinical, academic and research programs, and the training of Psychiatry residents and fellows.
Stony Brook University Hospital's clinical programs in Psychiatry include the Comprehensive Psychiatric Emergency Program (CPEP), a 10,000-square-foot state-of-the-art facility that opened in 2011, a 30-bed Adult Inpatient Psychiatric Care Unit and a 10-bed Inpatient Children's Unit, Adult and Child outpatient facilities, a day treatment program, and a consultation service. In addition, the department operates an accredited sleep disorders program at St. Charles Hospital and affiliated clinical and teaching programs at Eastern Long Island Hospital in Greenport, the Northport Veterans Affairs Medical Center, and Nassau University Medical Center.
"Dr. Parsey is uniquely qualified as a physician-scientist to position Stony Brook's Department of Psychiatry and Behavioral Science to continually search for insights into the origins of psychiatric disorders and to rationally design innovative approaches to their treatment, to inspire and train the next generation of academic psychiatrists, and to lead the administration of outstanding clinical care to our patients," Dr. Kaushansky said. "I am confident Dr. Parsey will build upon the strengths of the department and transform us into an outstanding research, educational and clinical institution."
Dr. Kaushansky recognized and thanked Mark Sedler, MD, MPH, Professor, Department of Psychiatry and Behavioral Science, who had served as Chair of the department since 1994.
A renowned brain imaging expert, Dr. Parsey is former Professor of Psychiatry at Columbia University and Director of the Brain Imaging Core of the Silvio O. Conte Center for the Neurobiology of Mental Disorders at the New York State Psychiatric Institute.
At Stony Brook, Dr. Parsey will continue his pioneering work in the use of brain-imaging technology to uncover the neurobiological mechanisms involved in psychiatric disorders – information which is instrumental in developing better diagnostics and treatments.
"We can do better in our treatment of psychiatric disorders," said Dr. Parsey. "But first we must understand the biology of these conditions."
Dr. Parsey's research is aimed at developing neurological markers that predict responses to antidepressants and other medications, as well as developing radiotracers and resolving basic issues in imaging methodology. Three accomplished researchers from Dr. Parsey's brain imaging lab at Columbia University will join him at Stony Brook: Christine DeLorenzo, PhD, director of the new brain imaging lab, and Francesca Zanderigo, PhD, and Arno Klein, PhD, who are creating new imaging techniques.
At Stony Brook, Dr. Parsey said he will emphasize a multimodal research approach in which findings from imaging techniques are combined with genetics and psychological studies. He has already established links with scientists at Brookhaven National Laboratory and will forge new links with other departments at Stony Brook. He also aims to enhance clinical operations and add new services at the forefront of psychiatric treatment.
While at Columbia University, Dr. Parsey was Director of the Brain Imaging Division of the Department of Molecular Imaging and Neuropathology, as well as Co-Director of the PET Chemistry and Analysis Core at New York State Psychiatric Institute. He served on the Institute's magnetic resonance imaging (MRI) Executive Committee and Institutional Review Board as well as the Irving Institute Clinical Research Resource (CRR) Scientific Advisory Committee.
A leader in developing National Institutes of Health (NIH) and industry-sponsored imaging and clinical protocols, Dr. Parsey's research in PET and MRI data acquisition and analysis has had continuous NIH funding for more than a decade and has more than $22.5 million in active grant support. He is lead investigator on nine current grants and wrote and served as principal or co-investigator on five Investigational New Drug (IND) Applications. He also developed an advanced, patent pending image processing method for the diagnosis of Alzheimer's disease and has developed novel radiotracers for PET imaging.
As an educator, Dr. Parsey has helped train 23 graduate students and postdoctoral fellows, many who now hold prominent academic positions. He is the author of more than 100 journal articles or book chapters and serves as a peer reviewer for psychiatric journals and grant proposals to the National Institutes of Mental Health (NIMH). Dr. Parsey is the recipient of several awards, including the Society of Biological Psychiatry's A.E. Bennett Research Award.
Dr. Parsey received his bachelor's degree in Biochemistry from the University of Maryland, College Park, and then enrolled in a joint MD/PhD program at the University of Maryland. He performed his residency in Psychiatry at Duke University Medical Center, where he was elected chief resident and named NIMH Resident of the Year. He completed a fellowship in Psychiatry at Columbia University College of Physicians and Surgeons and was a Visiting Fellow at Presbyterian Hospital in New York, as well as a Research Fellow at the Department of Neuroscience, Division of Brain Imaging, New York State Psychiatric Institute.
Board-certified in Psychiatry, Dr. Parsey will continue his clinical practice at Stony Brook, diagnosing and treating patients with depression and bipolar disorder. By stressing the biological origins of psychiatric disorders, Dr. Parsey hopes to decrease the stigma associated with seeking treatment.
"Disorders like schizophrenia and major depression are not the result of personal choices," he explained. "They are diseases like arthritis or diabetes. Many psychiatric diseases are treatable, if people would only seek help for them."
About Stony Brook Medicine:
Stony Brook Medicine integrates and elevates all of Stony Brook University's health-related initiatives: education, research and patient care. It includes five Health Sciences schools — Dental Medicine, Health Technology and Management, Medicine, Nursing and Social Welfare — as well as Stony Brook University Hospital and 50 community-based healthcare settings throughout Suffolk County. To learn more, visit www.stonybrookmedicine.edu.