COLLEGE STUDENT WHO SUFFERED CRANIAL BLEED AT AGE SIX EYES HER OWN CAREER IN MEDICINE 13 YEARS LATER
6/29/2011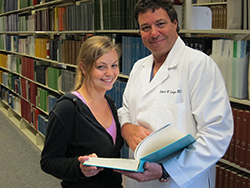 Michelle Lazar and Robert Laza, MD
Medical Center physician taking summer science classes
November 23, 1998, is a day Michelle Lazar will never forget, even though she doesn't remember exactly what happened.
Six years old at the time and a student at Harbor Country Day School, the Smithtown native was nearing the end of swim practice with her competitive swim team at Half Hollow Hills High School in Dix Hills. She went to the bathroom and fell to the floor, where the mother of one of her teammates found her in the stall. Michelle's mother quickly came and noticed that she could not use the left side of her body. Soon she was rushed by helicopter to Stony Brook for lifesaving surgery.
Dr. Michael Egnor
, Director of Pediatric Neurosurgery at Stony Brook Long Island Children's Hospital and currently the only board-certified pediatric neurosurgeon in Suffolk County, performed a craniotomy to address a right intracranial bleed. The six-year-old remained in a medically induced coma for a week and was paralyzed on her left side.
After a lengthy rehab at St. Charles Hospital under the supervision of Dr. Patricia Tan, with treatment planning by Thomas Preston, PhD, a pediatric neuropsychologist who now serves as Director of the Neuropsychology Service in the Department of Neurology at Stony Brook University, she regained nearly all of her motor skills.
Today, Michelle has no noticeable deficits. It was the prompt diagnosis and treatment that led to her fantastic outcome, said her father, Dr. Robert Lazar, a gastroenterologist in Smithtown who serves as a voluntary faculty member at SBMUC. The staff was wonderful and will always be appreciated by the Lazar family, he said.
Michelle is currently a rising sophomore at Indiana University, where she is studying neuroscience and mulling pre-med options that include neurological rehab, physiatry, neurology and occupational therapy. This summer, she is burnishing her resume with courses in organic chemistry and biology at Stony Brook University. She also provides private swimming lessons in her spare time.
Though she had to give up her competitive swimming pursuits, Michelle played on her junior high and high school tennis teams, serving as team captain her senior year. She also worked as a lifeguard for the Hauppauge Swim Program.
"My family and I are thankful for the care I received at SBUMC," Michelle says. "The wonderful treatment given saved my life and will allow me to help others in the future."