SBU PHYSICIAN PUBLISHES BOOK ON MEDICAL CASES AND EXPERIENCES FROM AROUND THE GLOBE
1/5/2009
Shetal Shah, M.D., Assistant Professor of Neonatal Medicine at Stony Brook University Medical Center, has authored a new book titled
Passport to Illness: Voyages In and Out of Medicine
. The book consists of 14 distinct narratives that detail not only medical cases but personal stories, anecdotes, and relationships that doctors bring to their patients' bedsides.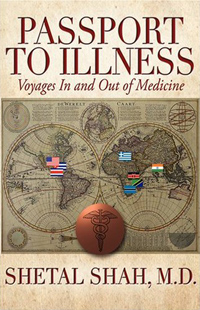 Published by Cold Tree Press (2008),
Passport to Illness
is Dr. Shah's first memoir and second book. A few months in print,
Passport to Illness
received a Five-Star Rating from Amazon.com readers in December 2008. One reviewer wrote: "People who love medicine or want to know what healthcare is like in other countries will be really interested."
Dr. Shah
discusses caring for patients in different parts of the world that are vastly different from each other, ranging from heavily populated cities to desolate country areas. The summary provided on the book jacket states: "From inner-city New York to the streets of Cuba to rural towns in Kenya, Dr. Shah guides you through his unique world, where the summit of Mount Kilimanjaro and the bedside of a fragile, premature infant in New York are not far apart."
The book details more than a decade of Dr. Shah's experiences working around the world. He highlights how these experiences affected him as a physician, particularly in the instance of dealing with critically ill newborns.
"Just as important as where a doctor is trained and goes to school is what experiences that doctor brings to the bedside," says Dr. Shah. "These experiences fuel the perspective, compassion and empathy American medicine tries so hard to squeeze away."
Dr. Shah was born in the United States to Indian-born physicians. His love of India permeates the book, from practicing in the same hospital his parents once practiced with, to hearing inspiriting stories of his grandfather, also a physician. Annually he travels to India to teach pediatric physicians about recent developments in neonatal care.
Board certified in Neonatal Medicine, Perinatal Medicine and Pediatrics, Dr. Shah received the American Medical Association's Young Physician Leadership Award in 2008 and the American Association of Physicians from India Young Physicians Award in 2007. He was also named by the Massachusetts Institute of Technology as one of the "top innovators in medicine" in 2006 under the age of 35 years.
Dr. Shah is a native of Great Neck, N.Y., and currently lives in Syosset, N.Y., with his wife Alpana, and son, Sajan.