SBU RESEARCHER RECEIVES NIH GRANT TO DEVELOP A "SELF-HELP" PROGRAM FOR PATIENTS WITH CHRONIC FATIGUE
2/13/2008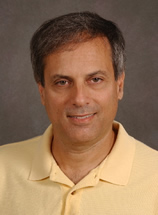 These three images of a mouse liver used by researchers at Stony Brook University Medical Center show: a normal liver; a diseased liver with Hepatocellular carcinoma (HCC), due to loss of the Iqgap2 gene; and another liver with HCC but with less severe disease, due to simultaneous inactivation of the Iqgap1 gene.
Fred Friedberg, Ph.D., Research Assistant Professor and Clinical Psychologist in the Department of Psychiatry at Stony Brook University Medical Center, through the State University of New York Research Foundation, received a $920,000 grant from the National Institutes of Health (NIH) to test a behavioral self-management program for people with chronic fatigue and chronic fatigue syndrome (CFS). There are no effective medical treatments for these illnesses. The behavioral program is intended to help patients function and feel better.
Because there are no established medical treatments for CFS and the causes of the condition are unknown, CFS remains a controversial illness. Yet, the Centers for Disease Control and Prevention has designated CFS as an important public health issue, and the NIH recognizes the need to test new forms of treatment.
"Cognitive-behavioral treatment, a type of stress management training combined with low level exercise, has shown promise to help people with CFS cope better and lessen illness severity," says Dr. Friedberg, Principal Investigator. "This new study will test a shortened version of cognitive-behavioral treatment that is based on a self-help model of illness management."
More specifically, the self-help program involves lifestyle change and stress reduction techniques, including graduated exercise, relaxation, pacing techniques, cognitive coping skills, low effort pleasant activities, and social support. Dr. Friedberg explains that all of the treatment components, individually and in combination, may help patients with CFS.
The grant runs for a 4-year period that began in January 2008 and will end in December 2011. Dr. Friedberg will recruit patients for the program as part of a clinical trial beginning in the spring. Recruitment and data collection will take place in the Family Practice Center of the Department of Family Medicine at SBUMC. The Department of Psychiatry will spearhead analysis of the research findings.