STONY BROOK UNIVERSITY HOSPITAL RECEIVES MOST IMPROVED AWARD FOR 2009 AS PART OF HOSPITALS AND HEALTH NETWORKS "MOST WIRED" SURVEY
7/14/2009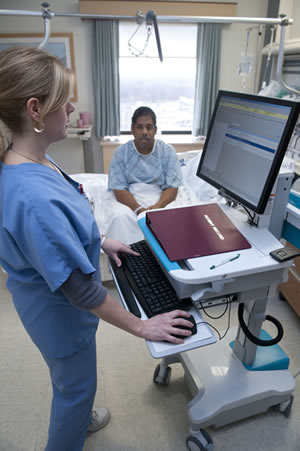 Stony Brook University Hospital has received Most Wired Survey's 2009 Most Improved Award. This marks the first time that the hospital has received this award, which is sponsored by Hospitals and Health Networks. This is the 11th year that H&HN has given out awards for the 100 Most Wired Hospitals and Health Systems, which is based on the annual Most Wired Survey and Benchmarking Study.
This year, 556 hospitals and health systems completed the survey, representing 1,314 hospitals. Along with the 100 Most Wired, H&HN uses the results to name the 25 Most Improved, the 25 Most Wireless and the 25 Most Wired–Small and Rural.>br>
The awards will be given out in San Francisco, California at the 17th Annual Health Forum/AHA 2009 Leadership Summit on July 23 through the 25. Linda Shanley, CIO for Stony Brook University Medical Center, and Jane Wu, Associate Director, Information Technology, will be accepting the award on the hospital's behalf. "The most important aspect of winning this award is that it is not an "IT" award but an award that is shared by the entire staff and clinicians at Stony Brook University Medical Center," Shanley says. "Information technology is used in all aspects of healthcare including direct patient care and ancillary services; being "wired" is essential."
The purpose of Hospitals & Health Networks' Most Wired Survey and Benchmarking Study (http://www.healthcareitnews.com/news/most-wired-hospitals-2009-named) is to promote the effective use of information technology in achieving clinical and operational excellence. Hospital & Health Networks' Most Wired Survey and Benchmarking Study is a unique program surveying hospitals and health systems on their use of information technology to achieve goals related to the following areas: patient safety and quality; customer service; business process improvement; workforce management; and disaster readiness.
" 'Wired' does not only mean the hard wires or devices that are visible to people but also the information accessibility for clinicians, staff and patients," said Wu. "It's been an interesting journey to get to where we are now but it is not over, we still have lots of work to do and I am confident we will reach our goal."
The 100 Most Wired organizations are hospitals and health systems that scored the highest on the survey questions. Each survey is scored using a methodology emphasizing the use of information technology. Individual scores are not made public, and organizations are not ranked. The survey is made possible through a partnership among H&HN, American Hospital Association, McKesson and CHIME (The College of Healthcare Information Management Executives).
The 25 Most Improved are organizations whose score improved the most from the previous year. Hospitals that score in the 100 Most Wired do not qualify for this award. The Most Improved awards are a joint project of CareTech Solutions with H&HN, AHA, McKesson and CHIME.