SBUMC PROFESSOR RECEIVES ACS RESEARCH SCHOLAR GRANT TO STUDY LIVER CARCINOGENESIS
12/29/2008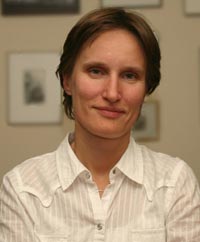 Valentina Schmidt, Ph.D., Assistant Professor in the Department of Medicine at Stony Brook University Medical Center, received an $850,000 four-year Research Scholar Grant from the American Cancer Society (ACS) to conduct a study on the role of a novel tumor suppressor gene (Iqgap2) in liver carcinogenesis. The award is given each year by the ACS to young investigators nationwide to support innovative research focused on various aspects of cancer. The grant period begins on January 1, 2009 and runs through 2012.
Dr. Schmidt's investigation is an outgrowth of previous research led by
Wadie F. Bahou, M.D.
, Professor of Medicine and Genetics, and fellow colleagues at SBUMC. In February 2008, Dr. Bahou reported in
Molecular and Cellular Biology
the identification of a family of genes linked to the development of hepatocellular carcinoma (HCC), centered around the Iqgap1 and Iqgap2 gene proteins. Treatment for HCC, the third-most common cause of cancer-related death in the world, is often ineffective. Therefore, treatment for HCC represents an area of high unmet medical need.
"Our research with Dr. Bahou in mice clearly shows a link between lack of Iqgap2 protein in liver with the development of hepatocellular carcinoma," says Dr. Schmidt. "The ACS award will allow me to establish the relevance of our mouse model for human disease, the next crucial step in any research to discover novel therapies."
In her study, Dr. Schmidt will further characterize features of HCC in Iqgap 2 knockout mice, specifically the timing of disease onset and molecules involved. The relevance of this novel HCC mouse model for human disease will be established by studying the presence and intactness of Iqgap2 gene and its antagonist Iqgap1 in an array of liver samples with HCC caused by different factors. The molecular interaction between Iqgap1 and Iqgap2 proteins will also be studied.
"I hypothesize that depending on the etiology of the disease, in some patients HCC might be caused by an insufficient expression of Iqgap2 protein due to silencing by promoter methylation or loss-of-function mutations in the coding sequence of its gene," says Dr. Schmidt. "Abnormal overexpression of Iqgap1 protein might be also a factor in the disease development." The ACS funding will enable Dr. Schmidt to test this hypothesis. If successful, the project will provide important insights into signaling pathways regulating HCC development. The long-term goal of the study is elucidation of molecular mechanisms of HCC development in humans, aiding creation of novel therapies based on modulation of Iqgaps expression in the liver.