STONY BROOK PHYSICIAN NAMED ONE OF 10 NATIONAL FELLOWS BY SOCIETY FOR CARDIOVASCULAR ANGIOGRAPHY AND INTERVENTIONS
8/25/2011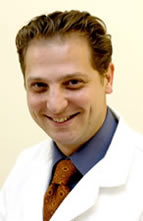 Dr. Allen Jeremias one of a "highly selective" group of up-and-coming physicians to transition as "next generation of great thinkers, presenters, teachers and national leaders"
Allen Jeremias, M.D.
, Associate Professor of Medicine at Stony Brook University School of Medicine and Director of Vascular Medicine and Peripheral Intervention for the Stony Brook University Heart Center has been named one of 10 national fellows for the inaugural Society for Cardiovascular Angiography and Interventions (SCAI)
Emerging Leader Mentorship (ELM) Program
.
The mission of the SCAI ELM program, in partnership with the American College of Cardiology and the Cardiovascular Research Foundation, is to help physicians facilitate their transition into the next generation of leaders in the field of interventional cardiology. The 10 fellows will be paired with accomplished mentors who will provide highly individualized resources, including dedicated training three times per year at major scientific conferences over the course of a two-year period.
Dr. Jeremias who is also Director of the Cardiac Intensive Care Unit and Cardiac Acute Care Unit at Stony Brook University Medical Center, is the only New York physician selected for this prestigious national honor.
Dr. Jeremias received his medical degree from Heinrich-Heine University School of Medicine in Dusseldorf, Germany. He completed his research fellowship with the Division of Cardiovascular Medicine at Stanford University in Stanford, CA, and his residency in internal medicine at Cleveland Clinic Foundation in Cleveland, OH. He completed fellowships in cardiovascular diseases and interventional cardiology/peripheral vascular at Beth Israel Deaconess Medical Center, Harvard Medical School, in Boston, MA. He is board certified in vascular medicine, interventional cardiology, cardiovascular medicine and internal medicine.
For local editors: Dr. Jeremias lives in Huntington, NY, with his wife, Dr. Elisabeth Jeremias, and their three children (Noa 15, Maya 13 and Nicolas 6)