WIDELY USED CANCER DRUG MAY INCREASE RISK FOR PROTEINURIA IN PATIENTS
6/9/2010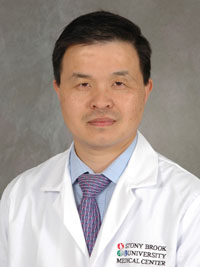 Cancer patients treated with the chemotherapy agent bevacizumab (Avastin) may be at an increased risk of severe loss of protein from the kidney into the urine that can lead to significant kidney damage and can compromise the efficacy of cancer treatment. This conclusion stems from a study of more than 12,000 patients by
Shenhong Wu, M.D., Ph.D.
, Principal Investigator, and colleagues at Stony Brook University Medical Center. Their findings are reported in online June 10 in the Journal of the American Society Nephrology (JASN).
Previous research has indicated that treatment with bevacizumab can lead to urinary protein leakage (proteinuria) and kidney damage, but the overall risk associated with the drug and patient risk factors was unknown. Bevacizumab blocks a protein called vascular endothelial growth factor, thus inhibiting the production of new blood vessels around tumors.
"Our study revealed that bevacizumab significantly increases the risk of proteinuria 4-fold, and additional risk factors may include tumor type and higher drug doses," says Dr. Wu. "Patients with the renal cell carcinoma, a form of kidney cancer, had the highest risk, with a cumulative incidence of more than 10 percent," he adds, "and the incidence among patients who received higher doses was more than twice that of those receiving lower doses."
Dr. Wu and colleagues analyzed published data from 16 studies nationwide comprising 12,268 patients with a variety of tumors, including breast, pancreatic, and kidney cancers.
Severe proteinuria occurred in 2.2% of patients taking bevacizumab. Compared with patients taking chemotherapy alone, patients taking bevacizumab combined with chemotherapy had a 4.79-fold increased risk of developing severe proteinuria and a 7.78-fold increased risk of developing nephrotic syndrome, a group of symptoms including protein in the urine, low blood protein levels, high cholesterol levels, high triglyceride levels, and swelling.
"The key findings indicate that it is particularly important for cancer specialists to monitor the effects of bevacizumab in patients who have kidney cancer or who are receiving higher doses of the drug," emphasized Dr. Wu. He says that future studies should investigate how to reduce bevacizumab's kidney-related effects, and physicians should be prepared to treat these potential side effects.
Dr. Wu's co-authors of the study titled, "Bevacizumab Increases Risk for Severe Proteinuria in Cancer Patients," include Christi Kim, M.D., Lea Baer, M.D., and Xiaolei Zhu, M.D., of Stony Brook University Medical Center.