"SURVIVOR STONY BROOK" BRINGS CANCER PATIENTS AND DOCTORS TOGETHER TO CELEBRATE LIFE, SURVIVORSHIP
5/27/2010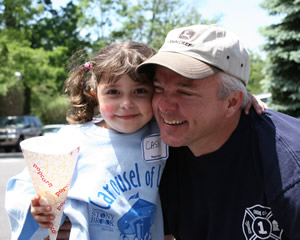 Cancer survivors and their families will celebrate with physicians and staff at "Survivor Stony Brook," Stony Brook University Medical Center's Annual National Cancer Survivors Day Event.
On Sunday, June 13, from 11:00 am to 2:00 pm, Stony Brook University Medical Center will host its sixth annual National Cancer Survivors Day® on the grounds of the Stony Brook University Cancer Center and Ambulatory Care Pavilion. "Survivor Stony Brook" brings cancer survivors and their families together to celebrate living beyond cancer with their physicians and SBU Cancer Center staff.
National Cancer Survivors Day is an annual celebration in hundreds of communities worldwide. The non-profit National Cancer Survivors Day Foundation (http://www.ncsdf.org) supports hundreds of hospitals and support groups nationwide.
"Survivor Stony Brook" – which builds on the jungle theme with bright decorations and "battle gear" clothes from the popular "Survivor" television show – includes live music, games for kids such as "Dunk-a-Doc" and "Bedpan Golf," yoga demonstrations and meditation sessions for adults, and the annual "Parade of Survivors."
Live music will feature rock and popular music tunes and showcase some talented SBUMC physicians on guitar, keyboards, percussion and vocals. "Practicing Without a License," a popular band with the audience returns to play again. The band features several orthopedic surgeons who will swap their surgical gear for musical instruments to jam for the day.
Snacks will be available. For more information about participating at "Survivor Stony Brook," please call Stony Brook Health Connect at 631-444-4000. For more information about outpatient cancer services at SBUMC, call 631-638-1000.