NATIONALLY RECOGNIZED BIOMEDICAL ENGINEER JOINS GROWING CEREBROVASCULAR CENTER AT SBUMC
6/29/2010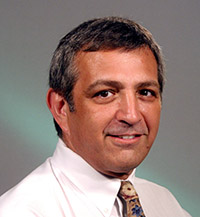 Baruch Barry Lieber, Ph.D., a nationally recognized biomedical engineer who has pioneered the development of minimally invasive devices in the treatment of stroke and aneurysms, has joined Stony Brook University Medical Center's Cerebrovascular Center. Appointed by
Raphael Davis, M.D.
, Chair of the Department of Neurosurgery, Dr. Lieber, Professor of Neurosurgery, will work closely with
Henry H. Woo, M.D.
, Director of the Cerebrovascular Center, and colleagues to develop a Cerebrovascular Research Center dedicated to discovering new minimally invasive cerebrovascular therapies.
Dr. Lieber comes to SBUMC from the University of Miami, where he was Professor of Biomedical Engineering and Co-Director of the Center for Neuroendovascular Surgery & Stroke Research, as well as Professor of Radiology. After 25 years in the field of hemodynamics (circulation of the blood), he has built his reputation as one of the world's foremost authorities on circulation in the brain.
Dr. Lieber is the inventor of a novel biomedical implant, called a "flow diverter," which features a tubular mesh-like device that is placed into cerebral arteries via catheters to reduce blood flow in an aneurysm, yet helps keep arteries open to supply oxygen to brain tissue. Dr. Lieber has brought the flow diverter from concept and design to preclinical testing and clinical trials.
"The addition of Dr. Barry Lieber to Stony Brook's Cerebrovascular Center faculty is essential to our mission of staying on the cutting-edge in development and use of the most advanced technologies to treat cerebrovascular diseases," says Dr. Woo. "His knowledge, expertise, and creativity will be invaluable to developing a Cerebrovascular Research Center that will support our entire clinical program."
When Dr. Woo, a cerebrovascular and endovascular surgeon, joined SBUMC to establish the Cerebrovascular Center in 2007, Long Islanders who have had strokes, aneurysms and other cerebrovascular diseases, began to have access at SBUMC to the most advanced technology and world-class expertise in neurovascular care and neurointervention. Dr. Woo has since recruited an interventional neuroradiologist, Dr. David Fiorella, and other clinical staff to build the program. The addition of Dr. Lieber ensures growth of the research component.
"My goal is to make our newly formed Cerebrovascular Research Center one of the best in the country and in the world," says Dr. Lieber. "The essential staff and ingredients have been assembled. This is a prime opportunity for synergistic research and development of minimally invasive cerebrovascular therapies with a renowned neurosurgeon (Dr. Woo) and interventional neuroradiologist (
Dr. Fiorella
)."
Dr. Lieber also looks forward to working in a cross-disciplinary environment of vastly dissimilar disciplines at Stony Brook University to advance hemodynamics research from basic laboratory work to translational research, and ultimately, clinical research at the medical center to help patients.
Prior to being at the University of Miami, where was for more than eight years, Dr. Lieber was Director of the Center Bioengineering and Applied Science at SUNY Buffalo. A native of Tel Aviv, Israel, Dr. Lieber also worked as a Visiting Associate Professor in the Department of Medicine at Technion Israel Institute of Technology in the mid-1990s. In 1985 he earned a Ph.D. in Hemodynamics from the Georgia Institute of Technology.
The author of hundreds of journal articles in biomedical engineering, Dr. Lieber is a Fellow of the American Society of Mechanical Engineers, Fellow of the American Institute of Engineering in Medicine and Biology, and a member of the Biomedical Engineering Society and the American Institute of Aeronautics and Astronautics.
Dr. Lieber is the recipient of numerous professional awards and honors, including the Summa Cum Laude Award for Excellence of Scientific Exhibit at the American Society of Neuroradiology Annual Scientific Meeting in 2004, the Researcher of the Year at the University of Miami, College of Engineering (2005), and the Scholarly Productivity Award at the University of Miami (2006).
He has received grant support for his research from numerous government and industry resources, such as the National Institutes of Health, the National Science Foundation, the New York State Science Foundation, and Boston Scientific.
Dr. Lieber lives in South Setauket with his wife, Tova. They have two adult daughters.