OB/GYN SPECIALIST NAMED CHIEF MEDICAL OFFICER OF STONY BROOK UNIVERSITY HOSPITAL
6/18/2009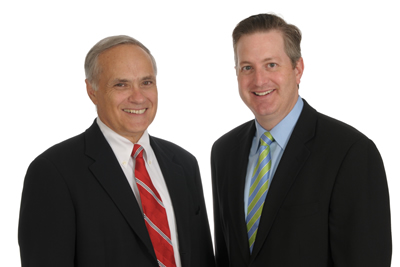 Left, Dr. Tom Biancaniello, former CMO with incoming CMO Dr. Todd Griffin
Todd R. Griffin, M.D., FACOG, has been appointed Chief Medical Officer of Stony Brook University Hospital, announced Steven Strongwater, M.D., Chief Executive Officer. Vice President of the Medical Board at SBUH,
Dr. Griffin
also serves as the Vice Chairman for Education and Residency Program Director in the Department of Obstetrics & Gynecology and is a member of the Dean's Leadership Advisory Group. His appointment becomes effective July 1.
As CMO, Dr. Griffin will be responsible for overseeing the establishment by the medical staff in carrying out standards of practice and delivery of patient care. He will also work collaboratively with senior leadership to develop networks and enhance external physician relations, function as a bridge between nursing and medical leadership, and oversee educational programs regarding regulatory, compliance and performance improvement initiatives.
A practicing specialist in Obstetrics/Gynecology at SBUMC, Dr. Griffin has advanced quickly in his field. He says his greatest rewards professionally come from the privilege of educating our future physicians and advancing the quality of care and quality of life for women.
Dr. Griffin received his medical degree from Stony Brook University School of Medicine and continued his training at SBUMC, completing a residency and chief residency in Obstetrics & Gynecology. After residency, he went on to serve as a Lieutenant Commander in the United States Navy before returning to SBUMC.
He is a Fellow in the American College of Obstetrics & Gynecology, and a member of other national societies, including the American Association of Gynecologic Laparoscopists, the Society for Laparoscopic Surgeons, the Association of Professors in Gynecology and Obstetrics, and the American Institute of Ultrasound in Medicine.
Dr. Griffin serves as a National Oral Board Examiner for the American College of OB/GYN, and he was one of a SBUMC team who received the prestigious Ellison Pierce Safety Award from the American Society of Anesthesiology in 2007. He has also received one of Stony Brook University School of Medicine's highest honors, the Aescalapius Award, for which he was nominated by residents and medical students.
"Dr. Griffin was selected as the new CMO after a rigorous search process," says Dr. Strongwater. "He is deeply committed to continuing to improve the quality and delivery of care as well as patient safety and satisfaction. He is committed to working to enhance relationships with nurses, staff and physicians, both internally and externally."
"We also want to extend our continued thanks to Dr. Tom Biancaniello, former CMO, for his many years of service and leadership."
"I am very excited about taking on this new role as Chief Medical Officer," Dr. Griffin says. "I hope that through this role I can have a positive impact on the institution and the community."
Dr. Griffin stated that one of his main goals is to continue to improve the culture within the hospital. "I want everyone who works at Stony Brook to feel that they are a part of something special," he says.
Dr. Griffin is also proud of his development of gynecologic robotic surgery at Stony Brook. "This has allowed us to develop a minimally invasive approach to most gynecologic surgery and to better serve the women of our community," he says.
Dr. Griffin's wife Jennifer is a Nurse Practitioner and Certified Nurse Midwife who practices in The Department of Obstetrics, Gynecology and Reproductive Medicine at SBUMC. They live in Smithtown and have three children: Spencer, 8, Oliver, 3, and Amelia, 2.