SBUMC CHILD LIFE PROGRAM MEET METS "PITCHER OF THE MONTH" STARLIGHT FOUNDATION DONATES FUN CENTER AT CEREMONY
9/16/2009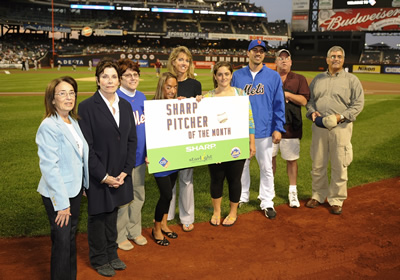 Stony Brook University Medical Center Child Life Specialists Paulette Walter, third from left (in New York Mets jersey), and Lauren Sharaby, fourth from left, joined members of the Starlight Foundation, Sharp Electronics, and New York Mets Pitcher of the Month, Brian Stokes, during an on-field ceremony in which a Starlight Fun Center was donated to the SBUMC program.
On September 8 at Citifield, home of the New York Mets, representatives of the Child Life Program at Stony Brook University Medical Center joined the Mets Pitcher of the Month, Brian Stokes, along with members of the Starlight Children's Foundation and Sharp Electronics for an on-field ceremony. The Child Life Program was selected to receive a Fun Center, a mobile entertainment center featuring an LCD television, DVD player, Nintendo, Wii and other gaming systems. The mobile system will bring fun and joy to the many children being cared for as outpatients and inpatients at SBUMC.
The New York Mets in conjunction with Sharp Electronics and the Starlight Foundation hold a ceremony each month, which sponsors a Starlight Fun Center in honor of the Mets Pitcher of the Month. Mets' reliever Brian Stokes was named the August pitcher of the month before the Mets/Marlins game that day.
The Child Life Program has worked with the Starlight Foundation to provide pediatric patients at Stony Brook with programs and games illustrative of the Foundation's credo of helping seriously ill children and their families cope with their pain, fear and isolation through education, entertainment and family activities.
The Child Life Program at SBUMC strives to normalize the healthcare experience for pediatric patients and their families and reduce the stress associated with illness and hospitalization. The program provides therapeutic, educational and recreational activities to meet the unique emotional and developmental needs of hospitalized children. For more information about Stony Brook's Child Life Program, call 631-444-3840.