DAN RATHER INTERVIEWS SBUMC'S DR. ANTHONY SZEMA FOR HDNET STORY ON BURN PITS IN IRAQ & AFGHANISTAN
4/30/2010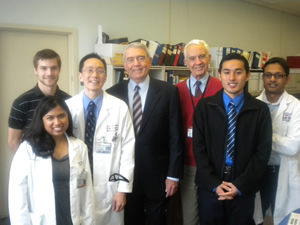 Pictured at Stony Brook University Medical Center during the HDNet "Dan Rather Reports" taping are, from left: Pavel Roy, Teddy Forsyth, Dr. Anthony Szema, Dan Rather, Dr. Sami Said, Kun Pan, and Dr. George Paz. Students Roy, Forsyth, Pan, and medical resident Dr. Paz are part of Dr Szema's asthma research team. Dr. Said is Dr. Szema's mentor.
Dan Rather, anchorman for HDNet and "Dan Rather Reports," and former CBS News Anchorman and 60 Minutes correspondent, interviewed
Anthony M. Szema, M.D.
, Assistant Professor of Medicine and Surgery, and Head, Allergy Diagnostic Unit at Stony Brook University Medical Center, for a HDNet television and iTunes program titled "Where There's Smoke." The program is scheduled to air May 4, 2010.
Dr. Szema and several Stony Brook University medical students were the first to report higher asthma and rhinitis rates among soldiers deployed to Iraq and Afghanistan. In November, 2009, Dr. Szema testified about their findings before the U.S. Senate Democratic Policy Committee. He also lectured at the first academic meeting on Burn Pits in Iraq & Afghanistan at National Jewish Health in Denver this past February. Dr. Szema's book, Rogue Bee (on amazon.com) is about Air Force Lt. Col. Darrin Curtis who risked his career trying to stop Army burn pits.
In addition to his asthma-related research in the U.S. soldier population in the Middle East, Dr. Szema and his team are investigating persistently high rates of asthma in Chinatown post the 9/11 World Trade Center attacks. Dr. Szema also recently received a $10,000 grant from Genetech, Inc., to advance his asthma and allergy research with an emphasis on IgE, or immunoglobulin E. Asthma is mediated by IgE. With his mentor, Distinguished SUNY Professor Sami I. Said, M.D., discoverer of Vasoactive Intestinal Peptide (VIP), Dr. Szema is conducting experiments aimed at elucidating VIP's anti-asthma, anit-IgE mechanism of action.
The Allergy Diagnostic Unit at Stony Brook University Medical Center, established in 2009, cares for adult and pediatric patients and evaluates them for seasonal, allergic, food, and other allergies and related conditions. Dr. Szema practices at the Center and is board certified in internal medicine, pulmonary, critical care, adult and pediatric allergy and immunology. For appointments, call 631-444-0580.