NEW TRAUMA SURGEON JOINS SBUMC-- APPOINTMENT CONTINUES EXPANSION OF SURGERY SERVICES
8/14/2009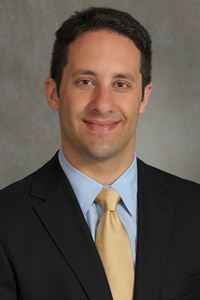 Jared M. Huston, M.D., has joined the Department of Surgery at Stony Brook University Medical Center in the Division of General Surgery, Trauma, Surgical Critical Care, and Burns. Appointed in July 2009 as Assistant Professor of Surgery by Todd K. Rosengart, M.D., Interim Chair, Department of Surgery, Dr. Huston joins a growing department that has added seven new surgeons in 2009.
Dr. Huston
, a Stony Brook University School of Medicine graduate, returns to SBUMC following his Residency in General Surgery at New York Presbyterian Hospital-Weill Cornell Medical Center in New York. He also held the position of Research Fellow at The Feinstein Institute for Medical Research in Manhasset, N.Y.
"We are thrilled to welcome Dr. Huston back to Stony Brook," says Dr. Rosengart. "He is contributing significantly to our program and helping to grow the department and move it in new directions that expand services to our patients."
Dr. Huston focuses his practice on diseases and conditions of the gastrointestinal tract and endocrine systems. He incorporates the use of minimally invasive laparoscopic and conventional surgery for inguinal and incisional/ventral hernias, gallbladder and biliary disease, and diseases of the stomach and spleen. He also serves on the trauma service, performing emergency surgery on injured patients.
In addition to his clinical practice, Dr. Huston will further extend Department of Surgery research into inflammatory diseases by launching a new departmental research laboratory. Dr. Huston will use the laboratory to continue his investigations into how the nervous and immune systems respond to shock, infection, and tissue injury. His other research interests include the role of the spleen in inflammatory diseases and surgical infections.
Dr. Huston has lectured both nationally and internationally, and published on topics such as sepsis and septic shock in a variety of journals, including The Journal of Experimental Medicine, The Journal of Immunology, Proceedings of the National Academy of Sciences, and Critical Care Medicine.
A graduate of SBU School of Medicine in 2001, Dr. Huston earned considerable distinction as a medical student and was elected to membership in the Alpha Omega Alpha National Honor Medical Society, serving for a year as President of the society's SBU chapter. He is also a member of the Society of Critical Care Medicine, Shock Society, Surgical Infection Society, and the American College of Surgeons.
A native of Long Island and graduate of Roslyn High School, Dr. Huston lives in New York City with his wife, Tara Lynn Huston, M.D., a plastic and reconstructive surgeon, and their two children, Emma, 5, and Zach, 4.