SBUMC SYMPOSIUM ON DUPUYTREN'S DISEASE BRINGS WORLDWIDE LEADERS IN HAND SURGERY TOGETHER
5/6/2010
Physicians and other healthcare professionals dedicated to Hand and Orthopaedic Surgery, Physical Medicine and Rehabilitation, Pain Management, Plastic Surgery, and other specialties attended a Dupuytren's Disease Symposium at Stony Brook University Medical Center that included the world's foremost specialists in hand disease and hand surgery. Sponsored by the Department of Orthopaedics at SBUMC, the April 17 symposium featured more than 25 presentations on the diagnosis and treatment of Dupuytren's disease (or contracture), including the latest on a new drug treatment for the disease discovered and developed by SBUMC Orthopaedics researchers Marie A. Badalamente, Ph.D., and
Lawrence C. Hurst, M.D.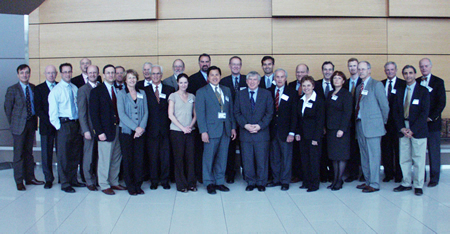 Assembled are some of the top hand specialists from the United States and around the world at Stony Brook University Medical Center's Dupuytren's Disease Symposium, held in April at the medical center.
Dupuytren's disease is a debilitating hand disorder caused by progressive accumulation of collagen that deforms fingers and limits motion and affects millions worldwide. In February 2010, the Food and Drug Administration (FDA) approved a new drug to treat Dupuytren's disease that began as a series of ideas and laboratory experiments by Drs. Badalamente and Hurst more than 15 years ago. The new treatment, an injectable form of the enzyme, collagenase, now known as Xiaflex, significantly improves outcomes in many patients with the disease. This is the first FDA-approved non-surgical treatment for the disease.
Drs. Badalamente and Hurst provided information about the new treatment and discussed how to inject patients. Other SBUMC Orthopaedists and 18 specialists from around the world lectured on other aspects of the disease. Examples of the presentations include: Pathoanatomy of Dupuytren's Disease, Open/Segmental/Dermato- Fasciectomy, Needle Fasciotomy, Managing Recurrent Dupuytren's Disease, Collagenase Clinical Development, Collagenase Storage/Reconstruction, and Injection and Manipulation Techniques.
Participants, which included medical residents and students, developed a solid understanding of the history and basic science of the disease, as well as how to diagnose it and manage it both operatively and nonoperatively. They were also well informed on hand therapy, postoperative management, surgical and non-surgical complications, strategies for performing and identifying collagenase injection therapy, and future directions of research.
The Department of Orthopaedics at Stony Brook University Medical Center has also opened a "Dupuytren's Institute" to further support patient care, research, and educational aspects of this debilitating disease that so often interferes with the quality of life, particularly in later years. Hand surgeons participating in the Institute have begun to see patients for consulation and evaluation to determine if they are candidates for the new collagenase, nonsurgical injection procedure.
The Department of Orthopaedics at Stony Brook University Medical Center provides full-service patient care and sub-specialty resident and fellowship training in all areas of orthopaedics and hand surgery. The department includes a comprehensive Orthopaedic Research Program featuring clinical and laboratory facilities and resources for investigation of molecular, biologic, and biomechanical research topics.