SBUMC ECHOCARDIOGRAPHY AND NUCLEAR STRESS TESTING LABORATORIES ARE REACCREDITED BY THE IAC
3/18/2010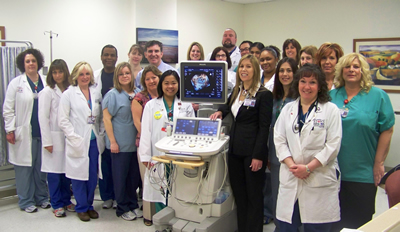 Dr. Smadar Kort (standing to the right of the Echocardiography machine) with the Echocardiography team at the Heart Center at Stony Brook University Medical Center
Under the leadership of Dr. Smadar Kort, FACC, FASE, Director of Non-Invasive Cardiology, Cardiovascular Imaging and Echocardiography, Stony Brook University Medical Center (SBUMC) was granted reaccreditation by the Intersocietal Accreditation Commission (IAC) in all components of adult echocardiography - transthoracic, transesophageal and stress, and both outpatient sites at Islandia and Tech Park were granted re-accreditation in adult transthoracic echocardiography. In addition, Stony Brook University Hospital and the two out patient sites were recently granted re-accreditation in nuclear stress testing.
Accreditation status signifies that the Heart Center has been reviewed by an independent agency which recognizes Stony Brook's commitment to quality testing for the diagnosis of heart disease. The designation was issued after an independent review of the Echo Labs in all three Heart Center locations: Level 5 of the Hospital, the Lab in Islandia and the Lab in Tech Park. It is effective through 2013.
"Although echocardiography is the most widely used cardiovascular imaging modality, we are proud to be the ONLY laboratory in Suffolk County and one of only 25 laboratories in the entire state of NY that is accredited in all three components of adult echocardiography," said
Dr. Kort
.
Echocardiography is a complex imaging technique that relies on the experience and training of both the physician and sonographer. Their interpretive and technical abilities determine the diagnostic accuracy of an echocardiographic examination. The IAC has developed an accreditation program, which evaluates the quality of these and other critical elements of an echocardiography center.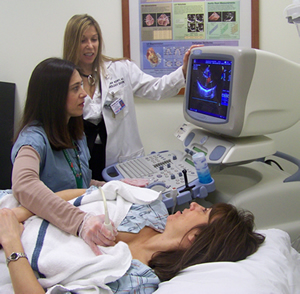 Dr. Smadar Kort, Director, Non-Invasive Cardiology, Cardiovascular Imaging and Echocardiography in the Heart Center at Stony Brook University Medical Center, consults with a patient during an exam by Sharon Goldstein, RDMS, a technologist in the Echocardiography Laboratory.
"We are fortunate to have a great team including the non invasive cardiologists, nuclear medicine physicians and physicists, sonographers, technicians, NPs, nurses, administrators and clerical support staff," she said. "Through their efforts, we were able to achieve this distinction once again."
"Although we have been accredited for the past three years, it takes a concerted effort to achieve reaccreditation – the process does not begin and end with submission," said Dr. Steven L. Strongwater, CEO of Stony Brook University Hospital. "I'm certain Dr. Kort and her team is already prepping for another submission in three years."
One American dies every 32 seconds of cardiovascular disease, disorders of the heart and blood vessels. It is the leading cause of death in the US. Cardiac structure and flow information provided by echocardiographic testing is useful in the detection and management of many types of heart disease. This noninvasive test has become one of the standard diagnostic tools in cardiology with an estimated 10 million echocardiograms performed annually in the United States.
IAC is a nonprofit organization, established with the support of the American Society of Echocardiography, the American College of Cardiology and the Society of Pediatric Echocardiography. It is designed to help laboratories attain the highest possible imaging Quality to improve patient care.
Part of the State University of New York, Stony Brook University Medical Center is the only academic medical center on Long Island. It comprises Stony Brook University School of Medicine and Stony Brook University Hospital, which is the only tertiary care hospital and Level 1 trauma center in Suffolk County. With 540 beds and more than 5,100 employees, it is the largest hospital in Suffolk County. The Heart Center performs the only open-heart surgery in Suffolk and the Cancer Center and Cerebrovascular Center attract patients from throughout the region with cutting edge diagnostic and treatment facilities. Stony Brook is home to Long Island's first kidney transplantation program which has performed over 1,100 transplants, and initiated the nation's first Pediatric Multiple Sclerosis Center. The hospital is also the regional referral center for trauma, perinatal and neonatal intensive care, burns, bone marrow and stem cell transplantation, cystic fibrosis, pediatric/adult AIDS, and is the regional resource center for emergency management. Stony Brook's Stroke program is certified by the Joint Commission and the NYS Department of Health; and, Stony Brook is home to the Cody Center for Autism and Developmental Disabilities and Long Island's first comprehensive ALS Center.