SBU PROFESSOR NAMED PRESIDENT OF INTERNATIONAL ASSOCIATION FOR CHRONIC FATIGUE SYNDROME
4/17/2009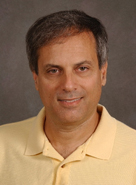 Fred Friedberg, Ph.D., Research Assistant Professor in the Department of Psychiatry and Behavioral Science at Stony Brook University, has been elected President of the International Association for Chronic Fatigue Syndrome (IACFS). The IACFS is an organization of 400 professionals worldwide dedicated to advancing the scientific knowledge of chronic fatigue syndrome (CFS) and fibromyalgia. The presidential term lasts two years.
Dr. Friedberg has been a psychologist in private practice for 20 years. A member of the SBU faculty since 2001, Dr. Friedberg specializes in research on behavioral treatment of CFS, fibromyalgia, and other chronic pain conditions. In addition, he has been conducting research during the past 10 years on lifestyle and stress factors related to these illnesses.
A controversial and debilitating disease, CFS is defined by medically unexplained fatigue in individuals that lasts at least six months. Dr. Friedberg says the condition affects some one million people in the United States and millions more worldwide. About 70 percent of those with CFS are women, and studies indicate that some minorities are disproportionally afflicted with CFS.
Dr. Friedberg has authored six books and numerous scientific articles on CFS and fibromyalgia. His latest book (2006) is Fibromyalgia and Chronic Fatigue Syndrome: 7 proven Steps to Less Pain and More Energy. He is also the principal investigator of a clinical trial of cognitive behavioral treatment for people with medically unexplained chronic fatigue. The trial is funded by the National Institutes of Health.
The mission of the IACFS is to promote, stimulate and coordinate the exchange of ideas related to CFS and fibromyalgia research, as well as support patient care and treatment. The IACFS conducts and participates in local, national, and international conferences related to chronic fatigue. Its members include professionals in many biomedical specialties, including internal medicine, immunology, neurology, genomics, epidemiology, and psychology.
Dr. Friedberg lives in Warren, Conn. He and his partner, Patricia Sitler, have a 14-year-old daughter, Mae.