A UNIQUE REUNION: DONORS AND RECIPIENTS GATHER TO CELEBRATE SBUMC'S 1000TH KIDNEY TRANSPLANT
12/10/2008
An invitation-only crowd of more than 300 people overflowed the Wang Center's theater at Stony Brook University on November 12. Ranging from infants to octogenarians, they shared one life-altering factor: All were either recipients, donors, or family members affected by the Stony Brook University Medical Center's Kidney Transplant Program.
The event was held both to recognize Stony Brook's milestone achievement –– its 1,000th kidney transplant on March 18th –– and to honor the living donors. Established in 1981, the SBUMC transplantation program has grown steadily, especially in the last few years. The team did 71 transplants in 2006 (39 from living donors), 73 transplants in 2007 (30 from living donors), and will do at least 80 this year, Dr. Steven L. Strongwater, CEO of SBUMC, told the audience. The total number by the day of the celebration had reached 1,057, "making Stony Brook the fifth highest kidney transplant medical center in New York State and in the top 20% by volume in the United States."
They audience also listened enthusiastically to remarks by State Assemblyman Jim Conte and Suffolk County Family Court Supervising Judge David Freundlich – both of whom are kidney recipients – and to
Dr. Wayne Waltzer
and
Dr. Frank Darras
, the transplant surgeons.
A number of donors and recipients who had their procedures in 2007 also took the stage, and some of the latter expressed their heartfelt thanks to those who had given them a kidney. All those who donated a kidney in 2007 received a Gift of Life "medal of honor" from the SBUMC program, issued by the State of New York.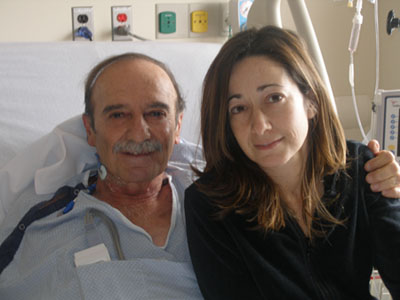 Special recognition was given to Joseph Celli, 72, of East Northport, the 1,000th transplant recipient, whose transplant took place on March 18 this year, and his daughter Denise Smagala, 45, of Commack, who donated a kidney to her father (see photo).
Dr. Darras and Dr. Waltzer referred to the great progress that has been made in kidney transplantation, considered one of the great medical success stories of the past 30 years. Changes include more sophisticated immunological management, enabling transplants across the ABO blood barrier, which makes it easier to match donors and recipients.
Further, laparoscopic surgery – which uses a video viewing system and works with very small incisions – is used on live donors, reducing discomfort and speeding recovery time. On the recipient side, steroids are no longer used to prevent kidney rejection so there are fewer complications and side effects.
The need for kidney donations is increasing because people are living longer and more are being diagnosed with high blood pressure and diabetes, two major causes of kidney disease, Dr. Darras explained.
Today there are 100,000 people on the national registry waiting for kidneys, and it's expected that only 25,000 to 28,000 of them will be reached. About 25% of those not reached will die. In the Long Island area, about 350 people are waiting.
"We would love to do more than we're doing," said Dr. Waltzer, who has been with the program since its beginning. We just need more donors."
Kidneys have traditionally become available two ways: via a living donor or via a donor who is determined brain-dead or heart-dead, and whose family agrees to the donation. In New York State, a program begun this year enables those who want to donate their organs to give legal consent in advance so their families will not be faced with a decision they may find difficult.
Kidneys don't get old in the same way that most organs do: a 70 year old's kidney can be successfully transplanted into a much younger person (though donors under age 35 are preferable for children). Thus many older people can give this gift of life.
While every case is individual, given improvements in surgery techniques and medication, a transplanted kidney may last the recipient for his or her lifetime.
"Kidney disease really doesn't distinguish – anyone can get it, for a variety of reasons, at any age," Dr. Waltzer observes. "People should consider what will happen if they develop kidney failure – will there be one available for them? We need to take that perspective."
For more information on organ donation, go to
www.donatelife.org.
For information about Stony Brook University medical Center's Kidney Transplant Program, call 631-444-4000.