SBUMC PATIENT RECEIVES A SPECIAL BIRTHDAY GIFT: A NEW KIDNEY AND RESTORED HEALTH
6/19/2009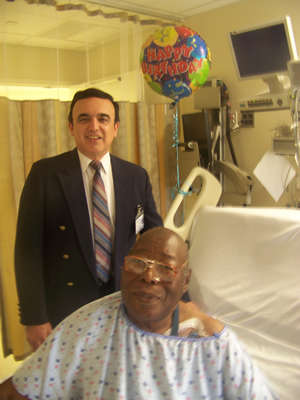 Long Island resident and kidney transplant recipient Charlie Wright, 69, celebrated his birthday in May with Dr. Frank Darras, the Stony Brook University Medical Center surgeon who performed his kidney transplant.
After suffering for years with diabetes and high blood pressure, Charlie Wright was not sure if he would ever feel healthy again. But the Central Islip, N.Y., resident received a unique gift a few days shy of his 69th birthday – a new kidney. On May 23, 2009, Dr. Frank S. Darras, a renal transplant surgeon at Stony Brook University Medical Center, performed the kidney transplantation. Within days, Mr. Wright began to feel better and talked about how the "birthday gift" was changing his life for the better.
Before his kidney transplant, Mr. Wright's condition had progressively worsened. The ordeal of needing dialysis three times a week, four hours each time, was wearing on him. In 2005, his kidney specialist had referred him to the Kidney Transplantation Service at SBUMC. He was placed on the national list for a kidney transplant.
The patient had been routinely examined and evaluated by the Stony Brook kidney transplant team for the past four years. When a kidney became available shortly after Mr. Wright's latest evaluation,
Dr. Darras
and colleagues promptly planned the transplantation.
"Mr. Wright is a great example that older patients can be excellent kidney transplant candidates if they take care of themselves," says Dr. Darras. "The transplantation went smoothly and all roads point to a fully functioning kidney and an improved life for Mr. Wright."
"It is a joy to be able to drink a lot of water, something I could not do when I was on dialysis," says Mr. Wright, noting that even the simple things in life are now great gifts.
Dr. Darras, a surgeon at SBUMC since 2004, has performed more than 500 kidney transplants during his career, including approximately 200 at SBUMC.
The Kidney Transplantation Service at SBUMC is the most active renal transplant program on Long Island. Approximately 1,100 transplants have been performed since the program began in 1981, including 79 in 2008. The Kidney Transplantation Service is in the top 20 percent of kidney transplant programs nationwide by patient volume.