PEDIATRIC INFECTIOUS DISEASE SPECIALIST JOINS SBUMC: APPOINTMENT EXPANDS SERVICES TO COMMUNITY
3/3/2009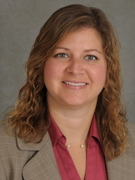 Christy Anne Beneri, D.O., has been named Assistant Professor of Pediatrics at Stony Brook University Medical Center. Appointed by Margaret McGovern, M.D., Ph.D., Chair of the Department of Pediatrics,
Dr. Beneri
specializes in pediatric infectious diseases and will help broaden the department's pediatric infectious disease services to the community.
"Along with Dr. Beneri's clinical background, she brings an interest and ability in research and community education, and will add to our investigations of HIV and respiratory infections in children," says
Dr. McGovern
. She adds that Dr. Beneri joins
Sharon Nachman, M.D.
, Director of Pediatric Infectious Diseases and Associate Dean, Office of Scientific Affairs, in these endeavors.
Dr. Beneri, who comes to Stony Brook from Schneider Children's Hospital in New Hyde Park. N.Y., is currently researching biomarkers for HIV using magnetic resonance imaging (MRI) spectroscopy. She is also involved in communities on Long Island to educate teachers about infectious diseases in children and has lectured at schools and local Head Start programs. Through Stony Brook, Dr. Beneri hopes to also offer appropriate travel advice as part of schools' travel education programs, a service that would benefit the many local high school students who travel abroad each year.
"I am fascinated by human interactions with the microbial world," says Dr. Beneri, a native Long Islander. "With the increasing issue of antibiotic resistance and new infectious diseases emerging, it is critical for us continue research and education in this field, which is ever changing."
According to Dr. Beneri, she joined the Pediatric team at Stony Brook so that she could "contribute back to the Long Island community where I grew up and where my family and friends still live."
Dr. Beneri, board certified in pediatrics, is a member of the American Academy of Pediatrics (AAP), the American College of Osteopathic Pediatricians (ACOP), the Society for Healthcare Epidemiology of America (SHEA) and the Infectious Disease Society of America (IDSA). She earned her medical degree from Nova Southeastern University College of Osteopathic Medicine in Florida, and completed her residency training in pediatrics as well as her fellowship training in pediatric infectious diseases at Schneider Children's Hospital in New Hyde Park.
Dr. Beneri grew up in Levittown and now resides in Copiague Harbor with her husband, Robert Stachurski.