SENATOR FLANAGAN RECOGNIZES SBUMC PROSTATE CARE PROGRAM FOR "INCOMPARABLE OUTREACH" TO COMMUNITY
10/29/2009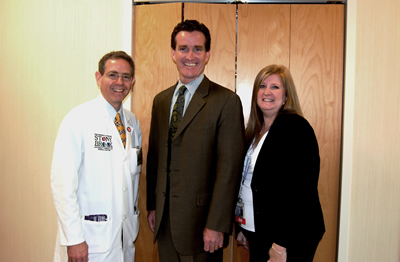 The Prostate Care Program at Stony Brook University Medical Center received a New York State Proclamation from Senator John J. Flanagan for the program's "incomparable outreach" that provides screening and education. Howard L. Adler, M.D., Medical Director, and Arlene Shaw, R.N., celebrate the recognition with Sen. Flanagan (center)
The Prostate Care Program at Stony Brook University Medical Center received a New York State Proclamation from Senator John J. Flanagan (Second District) for the program's "incomparable outreach" in providing prostate cancer screening, education, state-of-the-art technology, and innovative treatment throughout Long Island. The State Proclamation was the second received by the program in 2009 and was presented to Howard L. Adler, M.D., Medical Director, and Arlene Shaw, R.N., Nursing Director, at the program's facility at SBUMC in late September.
The Prostate Care Program at SBUMC has screened nearly 14,000 men in Suffolk and Nassau Counties for the disease since the outreach program began approximately 15 years ago. The program partners with many organizations throughout the county to deliver the free screenings, including fire stations, churches, libraries, senior centers, police precincts, and regional centers.
"The men and women of the Prostate Care Program provide an invaluable service to our community, and I thank them for all their dedication and professionalism," said Senator Flanagan. "While it is my pleasure to help them spread the word about the need to get tested, it is their work that makes these programs the success they are."
"Screening has the potential to save lives," says Dr. Adler. "By way of blood test and examination, two small steps, we may help save many lives from the disease that remains the most common form of cancer in men."
According to the American Cancer Society (ACS), prostate cancer is also the second leading cause of cancer death in American men, behind only lung cancer. The ACS estimates that during this year, 186,000 new cases of prostate cancer will be diagnosed in the United States and more than 28,000 men will die of the disease.
The Prostate Care Program at SBUMC offers free prostate screenings at satellite offices and throughout the local community at various times all year long. Annual screening is recommended for all men age 40 and over. For more information about the Program, call SBUMC HealthConnect at (631) 444-4000.