SBUMC RADIATION ONCOLOGY RECEIVES THREE-YEAR ACCREDITATION: CLINICAL PRACTICE EXCEEDS MANY PROFESSIONAL STANDARDS
12/17/2007
American College of Radiation Oncology (ACRO) Reviews Patient Care, Medical Physics
STONY BROOK, N.Y., December 17, 2007 – The Department of Radiation Oncology at Stony Brook University Medical Center received a three-year Certificate of Accreditation by the American College of Radiation Oncology (ACRO) Practice Accreditation Program. The accreditation results from a professional review of the SBUMC Radiation Oncology practice. Overall, the ACRO stated that the practice "not only meets but in many aspects exceeds the ACRO Standards for practice accreditation." The accreditation lasts until October 2010.
The ACRO includes approximately 1,000 physician members and other healthcare professionals who specialize in radiation oncology. As part of its mission, the ACRO developed the Practice Accreditation Program (PAP). The PAP review team, which consists of ACRO-designated board-certified Radiation Oncologists, Radiation Physicists, and members of the ACRO Physics Commission and the ACRO Practice Accreditation Subcommittee, identifies standards indicative of a high quality practice for accreditation.
"Receiving ACRO accreditation is a reflection of our commitment to providing the highest quality of practice standards for all patients," says
Allen G. Meek, M.D.
, Chair of the Department of Radiation Oncology. "It also reflects our commitment to safety, having a highly qualified staff, and educating healthcare professionals in the practice of radiation oncology."
The PAP review team evaluated areas such as patient care, medical physics, radiation safety activities, continuing medical education programs, staffing, and major equipment of the practice.
As a result of the review, the ACRO concludes the following abut the practice: patient charts are well-organized and meet all PAP standards; exam rooms are adequate in number and well equipped for clinical services; and upon examination of medical physics components of the program, clinical practices are appropriate for all the equipment present and services offered. Medical physics components include treatment planning issues and quality assurance procedures for external beam radiation and brachytherapy, qualifications of medical physics personnel, and daily, monthly, and annual linear accelerator calibration and quality assurance.
"We continue to incorporate new and better radiotherapy technology into the practice, as well as refine our practice management procedures and safety protocols," adds Dr. Meek.
The Department recently incorporated a radiotherapy system that combines high-tech imaging with precision tumor-targeting capability to treat patients with medically inoperable tumors or those at high-risk for surgery. The ExacTrac® X-ray 6D System for image-guided radiotherapy adds to patient options for stereotactic body radiation therapy, a technique that features high radiation doses with pinpoint precision to tumors.
Other types of therapies offered include conventional external beam radiotherapy, three-dimensional conformal radiotherapy, high-dose brachytherapy, cranial and extracranial stereotactic radiotherapy, and cranial and spinal stereotactic radiosurgery.
The Department of Radiation Oncology cares for approximately 75 patients per day. The missions of the Department are to use state-of-the-art methods to treat patients in a respectful, compassionate and effective manner, develop innovative approaches to treatment, and serve as a regional resource for education about radiation oncology and the diseases it treats.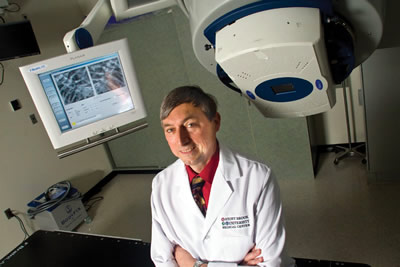 Allen G. Meek, M.D., Chair, Department of Radiation Oncology, Stony Brook University Medical Center.