SBUMC Signs Agreement With Hospital in Cambodia to Expand Residency Program, Provide Care For Children in Need
5/15/2007
The Department of Pediatrics at Stony Brook University Medical Center has signed a Memorandum of Understanding with the Angkor Hospital for Children (AHC), located in Siem Reap, Cambodia, to send resident physicians to train at the hospital. The opportunity gives pediatric residents at Stony Brook experience treating tuberculosis, malnutrition, and other diseases common to children living in Cambodia and underdeveloped parts of the world. AHC treats hundreds of children per day, and many are in dire need of care.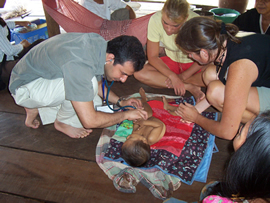 Allan Dias, M.D., a Stony Brook University Medical Center resident, evaluates a child with cerebral palsy on a home follow-up visit in Cambodia.
The agreement between the two institutions is one of only a few that AHC has signed with academic medical centers in the United States. The University of Minnesota Medical School has also signed an agreement with the hospital, and an agreement with the Warren Alpert Medical School of Brown University is pending. Established in 1999 by Friends Without A Border, a non-profit organization headquartered in New York, the AHC is a 50-bed teaching and clinical service facility. Its mission is to educate and train physicians and nurses in pediatrics and treat suffering children. The hospital includes an emergency room, intensive care unit, and inpatient, outpatient and home follow-up care.
"This program is a great opportunity for residents to provide care for children with diseases that affect development and other conditions in an area of the world that desperately needs assistance," says Richard N. Fine, M.D., Dean of the School of Medicine. "The program embraces a world view approach regarding academic medicine and health care services. I hope to build on that concept at our institution," adds Dr. Fine, who plans to visit AHC in 2008 and seek ways to expand the alliance between AHC and the Medical Center.
"We have been fortunate for the past year to host residents and medical students from all over the world," says David Shoemaker, Acting Executive Director, AHC, noting that students from the United States, Canada, England, Belgium, Australia, Malaysia, Japan, and Lebanon have trained at the hospital. "We are just beginning to enter into agreements with institutions, and it is very exciting prospect to develop a long-term relationship with schools that produce talented new physicians."
Alfred L. Scherzer, M.D., Ed.D., Clinical Professor of Pediatrics and Preventive Medicine, initiated and guided the development of the new international residency program, a one-month rotation at the hospital in Cambodia. Allan Dias, M.D., a Pediatrics/Medicine resident was the first participant. This past winter he completed outpatient and inpatient rotations, attended conferences and lecture series at the AHC. Dr. Dias learned about the latest treatments for malaria, dengue fever, and other infectious diseases that strike thousands in Cambodia. He treated many children severely affected by malnutrition, as well those with cerebral palsy, which is more prevalent in that region than other areas of the world.
Participating Stony Brook residents will also share their expertise with the Cambodian staff to help broaden the hospitalís services. At least one other resident will be selected for the next rotation in Cambodia, which is scheduled for January 2008. Under the terms of the Memorandum of Understanding, medical students will eventually participate in the educational/training program. Another possible development is a future exchange of Cambodian physicians to Stony Brook.
Residency programs at Stony Brook University Medical Center encompass 21 specialty programs, in areas such as Pediatrics, Surgery, Neurology and Ophthalmology. Several hundred residents are trained each year through specialty programs. The Stony Brook/AHC pediatric training rotation is the first program in which pediatric residents can train at a foreign hospital.