STONY BROOK UNIVERSITY RECEIVES $5.5 MILLION NY STATE GRANT TO CREATE A CORE STEM CELL EDUCATION/RESEARCH FACILITY
6/21/2010
Stony Brook University School of Medicine, through the SUNY Research Foundation, received a $5.5 million grant from the New York State Department of Health (DOH) to support stem cell research, training and biomedical research infrastructure. The grant was awarded as part of $30.5 million in funding approved by the Empire State Stem Cell Board in May to support the work of 10 research institutions across the state. SBU will receive the third highest total funding among the state institutions.
"Investment in stem cell research facilities stimulates our biomedical industry, creates job opportunities, and develops a competitive research pipeline," said Governor David A. Paterson in a statement. "Enhancing our research capacity and supporting an environment that motivates investigators and entrepreneurs will continue to strengthen our reputation as a leader in biomedical research, making New York more attractive to top researchers and private investment."
"These grants will not only help New York retain its scientific talent but will facilitate multi-institutional collaboration and sharing of knowledge and technology," added State Health Commissioner Richard F. Daines, M.D., Chair of the Empire State Stem Cell Board. "These are critical steps in developing strategies to guide decisions about stem cell research and regenerative medicine."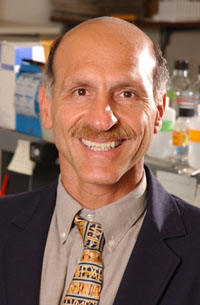 "This state grant will enhance the quality and breadth of stem cell research and educational facilities at Stony Brook University and for the entire local and regional Long Island biomedical research community," says
Wadie F. Bahou, M.D.
, Vice Dean of Scientific Affairs and Principal Investigator of the award.
Dr. Bahou explains that the funding will be used to create a multi-user core stem cell education and research facility, the Stony Brook Stem Cell Center, which will help support 25 funded investigators and eight other investigators seeking funding. He projects that the single point-of-entry core stem cell facility will be a University resource to provide scientific and educational support in stem cell processing, gene transfer and analysis. The Center will also develop into an educational resource for professors, students, and the scientific community, as well as become a facility to train and support a specialized workforce pursuing commercialization of technologies related to stem cell research.
"Stony Brook has an outstanding program in stem cell research, and this award will help build the infrastructure needed to take us to the next level," says Samuel L. Stanley, Jr., M.D., President, Stony Brook University. "We thank the DOH and the Empire State Stem Cell Board for their support, and look forward to moving this Center forward."
Individual stem cell research through SBU investigators encompasses work on various stem cell lines that may eventually lead to breakthrough treatments. These include studies to create a stem cell therapy for post-infarction arrhythmias, using stem cell-derived blood platelets as a means of long-term correction of hemophilic bleeding, and strategies to provoke differentiation of stem cells into certain types of cells, such as bone or muscle.
The SBU award totals $5,503,554 from the Empire State Stem Cell Board. Numerous stem cell research initiatives are active through several departments within the SBU School of Medicine. In addition, stem cell research is carried out throughout the University by the collaborative work of investigators within the Schools of Medicine, Dental Medicine, and Arts and Sciences.