New SBUMC Surgical Group to Expand Minimally Invasive Surgery for GI Tumors and Other
12/29/2008
Stony Brook University Medical Center has formed the Upper Gastrointestinal and General Oncologic Surgery Group to broaden minimally invasive surgery for complex gastrointestinal (GI) tumors and other diseases of the GI tract.
Kevin Watkins, M.D.
, Assistant Professor of Surgery, appointed by
Todd K. Rosengart, M.D.
, Interim Chairman, Department of Surgery, will serve as Chief of this new unit.
"The creation of this new surgical group is a key part of the development of a comprehensive surgical program at Stony Brook for treating upper GI and soft tissue malignancies in ways that are highly effective, technologically advanced, less invasive, and lead to better outcomes for patients," says Dr. Rosengart.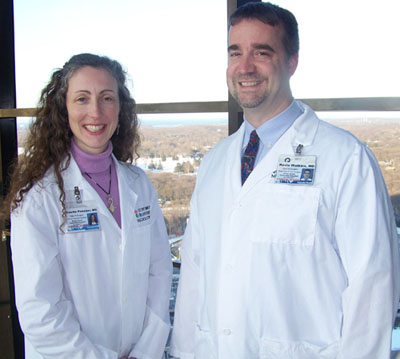 More specifically, Dr. Watkins and colleagues will use laparoscopic and other minimally invasive surgical methods, including robotically assisted surgery, in the treatment and management of malignant and benign tumors of the GI tract, liver, pancreas, esophagus and stomach. Dr. Watkins' practice at Stony Brook primarily focuses on liver and pancreatic resections, as well as removal of gastric and esophageal lesions.
"I expect to recruit additional faculty with expertise in the surgical treatment of hepatobiliary disease in developing this program," says Dr. Watkins, who brings 15 years of experience as a surgical oncologist and expert in minimally invasive techniques for all forms of GI cancer and related diseases.
Joining Dr. Watkins is
Colette Pameijer, M.D.
, FACS, Assistant Professor of Surgery, whose area of expertise include therapies for melanoma and other skin and soft tissue tumors, as well as regional therapies for advanced cancers. Dr. Pameijer has brought Stony Brook to the forefront of technology in the treatment of advanced malignancies with use of intraperitoneal chemotherapy and isolated limb infusion, methods that deliver heated chemotherapy directly to the area affected by cancer while sparing the rest of the body.
Dr. Watkins received his M.D. degree from the University of Virginia and completed his surgical residency at the University of Florida. He completed a fellowship in surgical oncology at the MD Anderson Cancer Center in Houston, with a focus on upper GI surgery. He spent six years in the U.S. Air Force as Chief of Surgical Oncology at Wilford Hall USAF Medical Center in San Antonio, Tex. While in the Air Force, he designed surgical techniques for laparoscopic liver and pancreatic resections and has presented these operative techniques at national and international meetings.
Dr. Pameijer, who came to Stony Brook in 2005, received her surgical training in Philadelphia at the combined MCP Hahnemann Hospitals, at the Children's Hospital of Philadelphia, and at the University of Wisconsin. She completed her fellowship in Surgical Oncology at City of Hope National Medical Center in California.
The Division of Surgical Oncology at Stony Brook University Medical Center provides comprehensive surgical expertise for patients with cancer. Surgical faculty treat children and adults with cancers of the GI tract, including upper GI malignancies, carcinomas of the colon and rectum, breast cancer, malignant melanoma and sarcoma.