SENATOR FLANAGAN HELPS BRING A "SPLASH OF HOPE" TO STONY BROOK UNIVERSITY MEDICAL CENTER PEDIATRIC UNIT
3/24/2008
Senator John Flanagan (2nd Senate District) joined some of the youngest patients at Stony Brook University Medical Center to welcome Splashes of Hope to the 11th Floor Pediatric Unit. The nonprofit organization, which brings inspirational artwork to hospitals across the world, "splashed" the pediatric unit with the aid of a grant secured by Senator Flanagan.
The unveiling and dedication of the underwater themed murals and paintings, which took one month of in-studio preparation and one week of installation, brings color and cheer to the patients and families who utilize the unit. The pictures were hand-painted by a variety of artists and are spread throughout the floor to bring cheer to children who are in a situation receiving medical treatment and care.
Splashes of Hope was founded in 1996 by Heather Buggée to create a legacy to a young friend who was bedridden in a local hospital suffering from Hodgkin's disease. They spoke about how they planned to change the hospital surroundings, and make the institution a place that was more conducive to the healing process. After her friend passed away, Heather decided that she would put their plans into action and established Splashes of Hope.
Impressed by the organization's goals, Senator Flanagan worked to secure $20,000 in State funding for the organization's efforts with a portion of that money being used for this project. The remainder of that funding will offset the cost of a therapeutic mural in the Burn Unit at Stony Brook University Medical Center.
Buggée, as the founder and executive director of the organization, was grateful for the opportunity to bring her artwork to the children at Stony Brook and appreciative of Senator Flanagan's efforts: "We really appreciate the support of Senator Flanagan. We would not be able to 'splash' the children's unit without his help. I hope that the murals will provide comfort to both the patients and parents."
"This is a wonderful idea and I am thrilled to play a small role in bringing it to the children and families who utilize the hospital. A stay in the hospital can be frightening at any age and Splashes of Hope and the Stony Brook leadership deserve credit for finding a way to help children through a difficult time," stated Senator Flanagan. "This is the type of project that will help countless children and I am glad that I was able to help bring it to Stony Brook."
"We deeply appreciate Senator Flanagan's support, and are grateful to Splashes of Hope and its mission to bring art and color into the clinical environment," said Steven L. Strongwater, M.D., CEO of Stony Brook University Medical Center. "The Pediatric Unit looks fantastic. The continued good works of Heather Buggée and Splashes of Hope at Stony Brook truly makes our patients' stay more comfortable."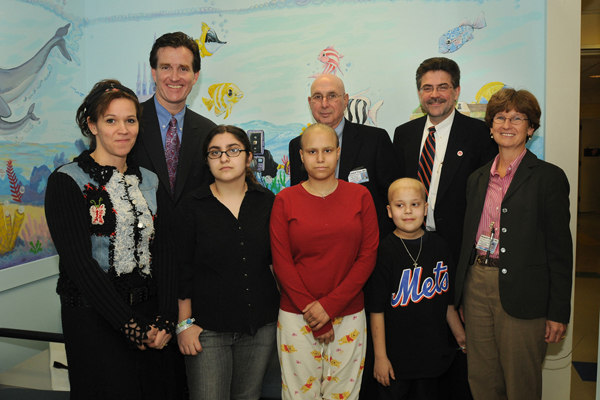 Buggée "Splashes of Hope" founder, Brianna Corcione of Coram (patient), Diandrea Jenson of Bellport (patient), Kevin Smith of Shirley (patient), Back Row, Senator Flanagan, Dr. Steven Strongwater, CEO, Dr. Richard N. Fine, Dean, School of Medicine, Dr. Margaret Parker, Director of PICU.