Senator Flanagan Keynotes SBU Med School Convocation; Ride For Life's Chris Pendergast Receives Honorary Degree
5/8/2007
Both to be Honored on May 17; 112 Graduates to Receive M.D. Degrees
Two prominent individuals who champion healthcare causes that help thousands of Long Islanders and others nationwide will take part in the Stony Brook University School of Medicine Class of 2007 Convocation. Honorable John J. Flanagan, New York State Senator, will deliver the keynote address. Christopher Pendergast, a 14-year survivor of ALS (amyotrophic lateral sclerosis) and founder of Ride for Life, which has raised millions for ALS research, will receive an Honorary Doctor of Science Degree for his valuable contributions to science and society. The Convocation takes place at the Staller Center on Thursday, May 17, at 10:00 AM.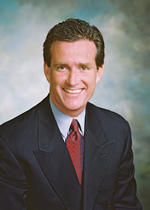 This year?s Convocation is the 33 rd for the Stony Brook University School of Medicine. In total, 112 graduates will receive M.D. degrees. The mission of the School is to educate caring and skilled physicians who are well-prepared to enter graduate and specialty training programs. Stony Brook has the only School of Medicine on Long Island.
"Senator Flanagan is a strong supporter of the University and Stony Brook University Medical Center, and I am pleased to announce that he will give the keynote address," said Richard N. Fine, M.D., Dean of the School of Medicine. "Mr. Pendergast is best known locally for his tireless efforts to increase ALS awareness and to raise funds for ALS research. He is more than deserving of an honorary degree because of his valiant efforts in the search for a cure."
Since first elected in 2002, Sen. Flanagan has made healthcare legislation a major priority. He supports many SBUMC research and clinical programs. Sen. Flanagan?s leadership has brought awareness and additional funding to Medical Center initiatives geared toward some of the most vulnerable patients, such as premature babies and elderly veterans.
When the Brady William Russell Memorial Fund was established in 2006 to conduct research on premature birth and Sudden Infant Death Syndrome (SIDS), Sen. Flanagan secured a $250,000 legislative grant to assist the Fund. Sen. Flanagan has helped to secure funding for the Burn Unit at the Medical Center and the March of Dimes NICU Family Support, a partnership between the Medical Center and March of Dimes. This program provides information and comfort to families with premature or other critically ill infants treated in the Neonatal Intensive Care Unit (NICU). Stony Brook is one of 44 such March of Dimes sites in the country and one of only two in New York State.
For the past several years, Sen. Flanagan has also led the way in providing additional support and funds for the Long Island State Veterans Home at Stony Brook. Major construction and technological improvements at the residence are enhancing the lives of veterans. A total of $1.6 million in State matching funds has helped upgrade electrical systems, kitchen, laundry and living space at the facility.
Raised in Huntington, N.Y., Sen. Flanagan represents the Second Senate District, which includes the entire Town of Smithtown and portions of the Towns of Brookhaven and Huntington. He resides in East Northport with his wife, Lisa. They have two sons, Sean and Jake, and a daughter, Ashley.
In 1993, Christopher Pendergast, then a science teacher in the Northport School District, was diagnosed with ALS, also known as Lou Gehrig?s Disease. ALS is a progressive neurodegenerative disease that leads to paralysis and death, often within a two- to five-year period. But Pendergast used his skills and determination since his diagnosis to take up the cause of finding a cure for ALS. Nine years ago, Pendergast rode in his electric wheelchair from Yankee Stadium, where Gehrig played, to Washington, D.C. The 350-mile journey took 15 days to complete. Pendergast?s symbolic journey, which he called a "Ride for Life," launched his advocacy campaign for increased research funding and Medicare laws for people living with ALS.
Pendergast completed his Ride for Life to Washington, D.C., for three consecutive years. His actions spurred the creation of the Ride for Life organization to support ALS research. An annual ride is held each May in the New York City Metropolitan area. Sen. Flanagan has supported the Ride for Life for years and has helped Pendergast gain access to certain needs for each event.
The 10 th Annual Ride for Life began April 28 and runs to May 6, 2007. During this period, Long Island ALS patients will ride their wheelchairs from the Montauk Lighthouse to the streets of Manhattan to raise funds for a cure and create ALS Awareness.
The Ride for Life has raised approximately $2 million since its inception. Pendergast, who received a M.A. in Liberal Studies from Stony Brook University in 1977, is a strong advocate of the University?s research on neuromuscular diseases.
The Ride for Life has become a major source of funds for the Stony Brook University ALS Comprehensive Care Clinic, which opened in 2002. The clinic provides a multidisciplinary program of medical treatment, rehabilitation techniques and psychological support in a warm and compassionate environment. The clinic includes experts and care in the areas of neurology, occupational therapy, physical therapy, nursing, speech pathology, social work, and nutrition.
"No words can describe the courage and vision that Chris has, and what he has done for our clinic," says Rahman Pourmand, M.D., Director of the Neuromuscular Disease Center and the ALS Comprehensive Care Clinic. "He is a great role model for students. The lesson that he teaches all of us is that we can have great purpose in life, even when circumstances are very difficult."
Pendergast lives in Miller Place with his wife, Christine. They have two adult children, Melissa and Christopher.