Specialists Working With Critically Ill Newborns Issuing Free Flu Shots To NICU Parents At SBUMC
1/23/2007
Immunizing Parents Helps Protect the Population at Greatest Risk of Death from Flu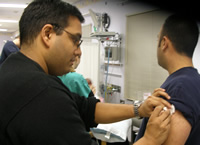 The Division of Neonatology at Stony Brook University Medical Center (SBUMC) has implemented a program in which the parents of newborns in the Neonatal Intensive Care Unit (NICU) are receiving a free flu vaccine while spending time with their child in the NICU. Since November 1, neonatologists at Stony Brook have delivered flu vaccines to more than 200 parents of NICU babies.
While influenza may be a "nuisance" illness to healthy adults, it is a major course of illness for premature babies with lung and heart problems. Unlike older children, babies less than six months old cannot be directly immunized against influenza because their immune systems are still so fragile. The Center for Disease Control recommends influenza vaccination for all parents of children from six months of age to 59 months of age. Of all those who get influenza each year, those younger than six months are at greatest risk of dying from flu-related illnesses.
"Most parents of NICU babies spend a great deal of time at their newbornís bedside, so they donít often have the time to get to a physicianís office during business hours for a flu shot," says Dr. Shetal I. Shah, Assistant Professor of Clinical Pediatrics and a Neonatologist at SBUMC. "By immunizing them on the Unit, we are marrying access to healthcare with convenience in the NICU."
Dr. Shah presented his research on the parent immunization program at the Society of Hospital Medicineís 2006 Annual Meeting earlier this year where it received the "Best Innovation" program award.
"Studies show the most likely person to give influenza to a premature infant is a parent," says Dr. Janet Larson, Director of the Division of Neonatology at Stony Brook University Medical Center. "Immunizing parents is part of our total commitment to caring for newborns in the NICU."
According to Adriann Combs, RNC, Director of the Regional Perinatal Center for which SBUMC serves as the provider of specialty newborn care, the parent immunization service is part of being a medical role model for the community.
"We are currently partnering with New York University Medical Center and Bellevue Medical Center in Manhattan and hope other hospitals in the region will implement the program as well," she said.
Stony Brook University Medical Center is home to Suffolk Countyís only Regional Perinatal Center caring for critically ill newborns. A team of seven neonatologists (doctors who specialize in the care of newborns) provides the only around the clock in hospital care for newborns in Suffolk County. The NICU at Stony Brook can care for up to 40 babies at a time, and treats more than 825 premature, sick and injured babies each year. More than 150 infants and 125 high risk pregnant women are transferred annually from other hospitals in the region to the Regional Perinatal Center. More than 100 specially trained nurses care for families in the NICU. The Obstetric and NICU transport teams include specially trained doctors, nurse practitioners, nurses, paramedics and respiratory therapists.
For more information on the NICU Parent Immunization program, please contact the Regional Perinatal Center at SBUMC at (631) 444-2359.