STONY BROOK CHILDREN'S HOSPITAL RECIEVES $100,000 GIFT TO COMMEMORATE MICKEY DEMARTIS
10/24/2013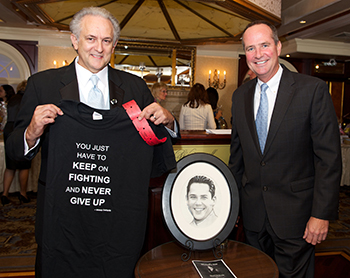 Mike DeMartis, left, stands with Gary Bie, Chief Financial Officer of Stony Brook University Hospital, and a photo of DeMartis's late son, Mickey. Bie suggested DeMartis honor his son's life by naming a room in his honor at the planned new Stony Brook Children's Hospital. The family raised more than $50,000 at an Oct. 10 dinner event, which will be matched by the Simons Foundation Challenge Grant for a total impact of more than $100,000.
Long Island family meets goal to name room at Stony Brook Children's Hospital in son's memory
Over $50,000 was raised during a benefit at the Watermill Caterers in Smithtown, NY on October 10; moneys that will go towards the new Stony Brook Children's Hospital, scheduled for construction from 2013 to 2016. The gift will be matched by an anonymous matching donor, for a total impact of more than $100,000.
Mike and Kathy Demartis of Commack celebrated their late son's valiant life and their enduring memories of his lifelong fight to overcome congenital heart problems with a
fundraiser to benefit Stony Brook Children's Hospital
. The event was a success and raised over the goal set by the family to name a room at the children's hospital in Mickey DeMartis' memory.
The idea of honoring Mickey's life with a room in his memory at Stony Brook Children's Hospital was first mentioned to Mike by a close family friend, Gary Bie, who serves as Chief Financial Officer at SBUH. Mike's own ties to Stony Brook run deep, as he worked for the University from 1981 to 2001 – including stints as Director of Purchasing for Stony Brook University from 1987 to 1995 and as Director of Purchasing for Stony Brook University Hospital from 1995 to 2001. "He said he couldn't think of a better way to keep his memory alive than to name something after him at the new children's hospital," Mike said of Gary's advice.
During his childhood, Mickey endured eight open-heart surgeries and 55 cardiac catheterizations. His father, Mike thought his son had turned the corner regarding his courageous health battles, so it came as a complete shock when Mickey suddenly died at the age 28 after coming down with flu-like symptoms two years ago. The DeMartis family is proud that their son's memory will be forever preserved in a place that Mickey visited on the day he was born, at the start of an amazing medical odyssey and an incredible life's journey.
About Stony Brook Children's Hospital:
Established in June 2010, Stony Brook Children's Hospital is Suffolk County's only children's hospital. More than 7,000 children and adolescents are admitted each year. Stony Brook Children's operates 100 pediatric beds and has more than 140 full-time pediatric physicians and surgeons in 30 different specialties and over 200 voluntary pediatric faculty members. The hospital is the Level 4 Regional Perinatal Center for our area and has a Level 3 Neonatal Intensive Care Unit. It is home to the nation's first Pediatric Multiple Sclerosis Center and also offers a Pediatric Hematology/Oncology Program, Pediatric Cardiology Program, Pediatric HIV and AIDS Center, Cystic Fibrosis Center and the Cody Center for Autism and Developmental Disabilities. To learn more, visit
www.stonybrookchildrens.org.