STONY BROOK UNIVERSITY MEDICAL CENTER RECEIVES FULL ACCREDITATION FROM JCAHO
11/8/2006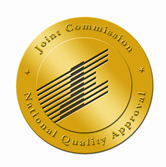 STONY BROOK, N.Y., November 8, 2006óStony Brook University Medical Center has again received a Gold Seal of ApprovalTM, signifying "full accreditation" from the Joint Commission on Accreditation of Healthcare Organizations (JCAHO) after an unannounced and comprehensive review of hospital operations, procedures, and patient care, Richard N. Fine, M.D., Dean of the School of Medicine, announced today.
The accreditation is for 39 months. JCAHO is an independent healthcare organization responsible for rigorous evaluations and accreditation of nearly 15,000 hospitals and other healthcare organizations in the U.S.
"This extremely thorough and positive evaluation reinforces the fact that Stony Brook is an outstanding medical center," Dr. Fine said.
Fred Sganga, the hospitalís interim CEO continued, "We are the medical center to which many hospitals across Long Island transfer patients they are not equipped to care for. With that very special role we play, this result provides proof of an organization-wide commitment to provide quality care on an ongoing basis to patients all across Long Island."
This week-long, on-site review took place Aug. 21 to 25 and consisted of a visit by a seven-member JCAHO team. Hospitals are surveyed by JCAHO in unannounced visits every three years and the review is considered critical to a hospitalís reputation, to its graduate medical education program and to approval of Federal reimbursement for care.
"Above all, the national standards are intended to stimulate continuous, systematic and organization-wide improvement in an organization's performance and the outcomes of care," says Darlene Christiansen, executive director, Hospital Accreditation Program, Joint Commission. "The community should be proud that Stony Brook University Medical Center is focusing on the most challenging goal -- to continuously raise quality and safety to higher levels."
JCAHOís rigorous review process focuses on the healthcare organizationís operations and internal systems that directly impact on the quality and safety of patient care. An independent, not-for-profit organization, JCAHO is the nationís predominant standards-setting and accrediting body in health care. Since 1951, it has maintained state-of-the-art standards that focus on improving the quality and safety of care provided by health care organizations. Its accreditation process evaluates an organizationís compliance with these standards and other accreditation requirements. JCAHO accreditation is recognized nationwide as a symbol of quality that reflects an organizationís commitment to meeting certain performance standards. To earn and maintain the JCAHOís Gold Seal of ApprovalTM, an organization must undergo an on-site survey by a JCAHO survey team at least every three years. Laboratories must be surveyed every two years.