STUDY BY DAVID L. BROWN, M.D., CHIEF OF CARDIOLOGY AT STONY BROOK PROVES SEXES RESPOND DIFFERENTLY TO ASPIRIN USE
1/17/2006
New Study Published in JAMA says for Primary Events, Aspirin Offers 24% Reduction of Stroke in Women; 32% Reduction of Heart Attack in Men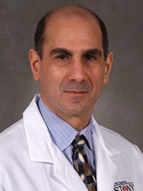 (STONY BROOK, NY, January 12, 2006) - Taking aspirin can significantly reduce the risk of a woman having her first stroke, but it does not reduce the risk of stroke in men whatsoever, according to a study by David L. Brown, M.D., Chief of Cardiovascular Medicine and Co-Director of the Heart Center at Stony Brook University Hospital (pictured), and colleagues. The research findings, published in the January 18 issue of the Journal of the American Medical Association (JAMA), also reveals that the risk of first time myocardial infarction (MI) is significantly reduced in men taking aspirin, but not in women.
"Although the benefits of aspirin therapy for reducing the risk of myocardial infarction, stroke and vascular death among men and women with preexisting cardiovascular disease are well established," said Dr. Brown, "the role of aspirin in primary prevention is less clear. We looked at six trials spanning over 15 years, which included more than 95,000 healthy individuals to find out if aspirin works differently on the sexes. This study shows that it does."
In a new sex-specific meta-analysis of six different studies, Dr. Brown writes that depending on sex, aspirin therapy decreases the risk of a composite of cardiovascular events due to its effect on reducing the risk of MI in men and ischemic stroke in women.
"This study will certainly help physicians more accurately describe the potential benefits of aspirin therapy to their patients," said Dr. Brown. "It also reinforces the need to clearly assess the bleeding risks when taking aspirin, and helps determine if the risks outweigh the benefits of aspirin for individuals with no family history or risk factors for cardiovascular disease."
Dr. Brown presented the research at the American Heart Association's Annual Meeting in Dallas, Texas in collaboration with investigators at Duke University, Durham, N.C., and Instituto di Ricerche Farmacologiche "Mario Negri," Milan, Italy.
Dr. Brown joined Stony Brook University Hospital in November, 2004. He brings a national reputation as a clinician, an innovator, a researcher and an educator. He formerly held leadership posts with the Albert Einstein College of Medicine and Beth Israel Medical Center in New York City. The distinguished interventional cardiologist was recognized as one of the "Best Cardiologists" in New York by New York Magazine from 2002-2005. His research interest is in vascular disease and new ways for detecting blood vessels at risk for thrombosis.
Stony Brook University Hospital is the only academic medical center on Long Island, and the only tertiary care hospital in Suffolk County. With 504 beds and 4,000 employees, SBUH is the largest hospital in the county. The new Heart Center and the Long Island Cancer Center attract patients from throughout the region with cutting edge diagnostic and treatment facilities and compassionate care. Stony Brook has Long Island's only kidney transplantation center and the nation's first Pediatric Multiple Sclerosis Center. The hospital is also the regional referral center for trauma, perinatal and neonatal intensive care, burns, bone marrow and stem cell transplantation, cystic fibrosis, pediatric/adult AIDS, and is home to the Cody Center for Autism and Developmental Disabilities.