The General Clinical Research Center At SBUMC Called "Outstanding" by The National Institutes Of Health
4/19/2007
An NIH Report Cites Outstanding Patient Safety Protocols, Exceptional Research Plans
The General Clinical Research Center (GCRC) at Stony Brook University Medical Center received a score of 1.48 – its highest yet – and an "outstanding" evaluation by the National Center for Research Resources (NCRR) of the National Institutes of Health (NIH). A score between 1.00 to 1.5 is considered "outstanding," with a 1.00 being a perfect score. All major components of the GCRC – leadership, diversity of research initiatives, collaborative efforts and institutional support – were rated outstanding.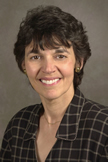 According to Program Director Marie Gelato, M.D., Ph.D., the evaluative report specifically highlighted the direction of the GCRC, its increased collaboration with Brookhaven National Laboratory, outstanding patient safety protocols, and exceptional plans for future research. The NCRR termed the biostatistical and informational components of the GCRC as "a model of what bioinformatics should be."
The GCRC is a focal point for clinical research within the Medical Center for diseases, including those of particular importance on Long Island, such as breast cancer and Lyme Disease. The GCRC is one of approximately 60 NIH funded centers nationwide. The goals of the GCRC are to provide an optimal setting for controlled clinical investigations of human disease, encourage collaboration among basic and clinical researchers, introduce health professionals into the field of clinical research, and translate advances in basic science into new or improved methods of patient care.
"We have the backbone for a broader initiative in the future, thanks to a strong foundation of excellence in basic and clinical sciences, and clinical investigations of the causes, progression, prevention, and cure of many diseases," says Dr. Gelato.
Dr. Gelato adds that the NIH has already funded the Medical Center with a planning grant to prepare and apply for a broader initiative called the Clinical and Translational Science Award (CTSA). The CTSA is a multimillion dollar NIH program that would build upon the GCRC to expand the resources investigators need to conduct clinical research.
The award would also increase translational research and create an infrastructure to promote accelerated biomedical discovery and application of novel diagnostics and therapeutics.
"The NIH initiative will increase partnerships at academic medical centers with affiliated institutions and pharmaceutical and biotechnology companies," says Dr. Gelato. "We anticipate submission of a full CTSA application in the near future."
As a component of the NIH, the NCRR's mission is to provide laboratory scientists and clinical researchers with the environments and tools they need to understand, detect, treat, and prevent a wide range of diseases.