TODD K. ROSENGART, M.D., APPOINTED CHIEF, CARDIOTHORACIC SURGERY AND CO-DIRECTOR OF THE HEART CENTER AT STONY BROOK
1/6/2006
Long Island Native, a Nationally Renowned Surgeon, Will Help Lead Heart Center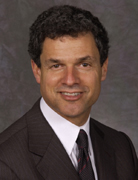 (STONY BROOK, NY, January 2, 2006) - Todd K. Rosengart, M.D., F.A.C.S., F.A.C.C., a nationally-renowned heart surgeon and leader in surgical research, has been named Chief of Cardiothoracic Surgery Stony Brook University Hospital it was announced today. The appointment comes at a time when Stony Brook is further enhancing its major clinical programs and expanding access of its tertiary services to residents across Suffolk County.
At Stony Brook, Dr. Rosengart will serve as co-director of the hospital's Heart Center, and will further ensure the established quality of Stony Brook's cardiovascular care delivery system that provides integrated services throughout the continuum of care. He also is a Professor of Surgery and will work closely with his counterpart in cardiovascular medicine, David L. Brown, M.D., Chief of Cardiology and also Co-director of the Heart Center.
Rosengart, who grew up in Long Beach, comes to Stony Brook from Northwestern University's School of Medicine in Chicago, where he was Professor of Surgery and Chief of Cardiothoracic Surgery at its affiliated hospitals of Evanston Northwestern Healthcare.
"Dr. Rosengart is a knowledgeable, compassionate and highly skilled," said Richard Fine, M.D., Dean of the School of Medicine at Stony Brook University. "He joins us at an extraordinary time as we implement the hospital's Major Modernization Plan that includes a comprehensive Heart Center with the latest diagnostic and treatment technologies."
Dr. Rosengart will have an active surgical practice. His clinical expertise includes surgery for all forms of adult heart disease, including high-risk states after acute myocardial infarctions and congestive heart failure; minimally invasive surgery; valve repair surgery; aneurysm surgery; and thoracic vascular surgery.
Dr. Rosengart has special expertise in treating high-risk and complex adult heart disease. He has performed pioneering work applying novel strategies, including thoracoscopic "hybrid" bypass that avoids sternotomies (surgical incision through the sternum), "bloodless" surgery for patients wishing to avoid transfusions, and gene therapy, potentially providing a "biologic bypass" for patients with end-stage coronary disease.
Stony Brook University Hospital CEO, Jack Gallagher, said Dr. Rosengart's expertise combined with the strong team of surgeons in place at the Heart Center raises the bar on treatment options offered in Suffolk County. "People in Suffolk County who need the best medical care can get it right here, in their own backyard," he said.
"Dr. Rosengart's excellence as a physician, surgeon, educator and researcher will contribute greatly to the existing strengths of our Division of Cardiothoracic Surgery," said John J. Ricotta, M.D., Professor and Chair of Surgery and Director of the hospital's Vascular Center.
Cardiologists in Suffolk County who worked with Dr. Rosengart while he was at New York Hospital, hailed the decision as a coup for Stony Brook's cardiovascular surgery program. Peter Bruno, M.D., a partner at North Suffolk Cardiology Associates, PC, in Stony Brook, referred many patients to Dr. Rosengart while he was at New York Hospital.
"Those patients did remarkably well," said Dr. Bruno. "Dr. Rosengart is a great surgeon; a dedicated researcher. He's got enormous talent, humility and compassion. He was one of the bright lights at New York Hospital and it was obvious that he was going to make a name for himself in the field of cardiovascular surgery."
The priority, Dr. Rosengart says, is to provide the level of care that people in Suffolk County need right in Suffolk County. "If we do our job well, there is no reason why anyone that needs heart treatment should leave Suffolk County."
Dr. Rosengart received his undergraduate degree at Northwestern University Honors Medical Program in 1979; he earned his medical degree from Northwestern University Honors Medical Program in 1983. He completed his residency training at New York University (NYU Medical Center; 1989), and his fellowship training in cardiothoracic surgery at New York Hospital (1991).
Dr. Rosengart is a Fellow of the American College of Surgeons and the American College of Cardiology, and he is a member of the Society of Thoracic Surgeons, the American Association of Thoracic Surgery, and the Executive Leadership Committee for the American Heart Association's Surgery and Anesthesia Council, among other professional societies and committees. He was selected for inclusion in Guide to America's Top Surgeons (2004), and for inclusion in the Castle Connolly Guide, America's Top Doctors (2003, 2004), and in Chicago Magazine's Best Doctors in Chicago for the past four years.
Dr. Rosengart has authored over 100 publications and serves on the editorial boards of the Journal of Thoracic and Cardiovascular Surgery and Journal of Cardiothoracic- Renal Research. He also serves as a manuscript reviewer for journals such as the New England Journal of Medicine, Circulation, and the Annals of Thoracic Surgery.
Dr. Rosengart plans to live in Setauket with his wife Debbie and sons Michael, 15 and Eric, 12.