ULTRA HIGH-TECH HEART IMAGING EQUIPMENT HELPS CARDIAC PATIENTS AT STONY BROOK UNIVERSITY HOSPITAL
2/14/2006
Cardiologists View Heart Function in 3-D, Enhancing Diagnostic Resources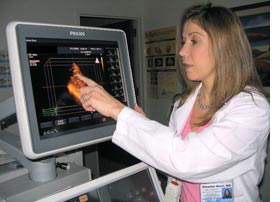 STONY BROOK, N.Y., February 1, 2006 - The Division of Cardiovascular Medicine at Stony Brook University has acquired two of the most innovative ultrasound imaging machines available for patients with heart disease. Under the leadership of the new Director of the Echocardiography Lab, Smadar Kort, M.D. (pictured pointing to a left ventricle clot in 3-D) Stony Brook is the only hospital on Long Island and one of the few in New York State, and in the country, with both echo (cardiac ultrasound) machines, which allow specially-trained cardiologists at Stony Brook to perform the following services:
Live 3D Echo Imaging - Live 3D Echo Imaging has the potential to provide better visualization of complex anatomic features, better assessment of valvular function, and better assessment of regional and global function. Dedicated software allows the cardiologists to manipulate the images off line, and perform various calculations, including volume quantification and ejection fractions, which are indicators of the function of the heart muscle.
Tissue Doppler Imaging, Strain and Strain Rate - Recent publications demonstrated the utility of these modalities in assessment of systolic function, diastolic function and viability. Off line software provides the ability to analyze Tissue Doppler Imaging (TDI) loops, offering advanced quantification of tissue velocity, strain-rate, and strain. These applications can result in early detection of various cardiac conditions, and possibly in early treatment and prevention of progression of these conditions.
Evaluation of dyssynchrony and response to cardiac resynchronization therapy (CRT) - CRT is a relatively new procedure available for patients with congestive heart failure who do not response to conventional treatment, and involve placement of a special pacemaker that stimulates both the right and left chambers of the heart. Sophisticated echocardiographic tools available at Stony Brook University Hospital can be used to identify potential candidates for this treatment. In addition, these echocardiographic tools can also provide guidance during the placement of this pacemaker, and can also be used after the placement for optimization of the pacemaker settings to the individual patient.
Stony Brook University Hospital is the only academic medical center and tertiary care hospital in Suffolk County. With 504 beds and 4,000 employees, SBUH is the largest hospital in the county. The new Heart Center and the Long Island Cancer Center attract patients from throughout the region with cutting edge diagnostic and treatment facilities and compassionate care. Stony Brook has Long Island's only kidney transplantation center and the nation's first Pediatric Multiple Sclerosis Center. The hospital is also the regional referral center for trauma, perinatal and neonatal intensive care, burns, bone marrow and stem cell transplantation, cystic fibrosis, pediatric/adult AIDS, and is home to the Cody Center for Autism and Developmental Disabilities.