What The Doctor Orders
10/26/2005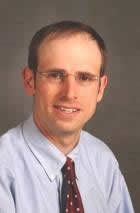 A doctor who describes himself as a former beer drinker has found that significant beer or other alcohol consumption - with the exception of red wine - increases the risk of colorectal cancer.
"I switched over from beer to wine. Yep, based on my own studies," said Dr. Joseph C. Anderson, an assistant professor of medicine at Stony Brook University Hospital.
Anderson said he's no longer a beer fan even though he experienced no problems. What he found, though, were serious health issues in many of his beer- and spirits-imbibing patients. The discovery was personally eye-opening. Anderson said he will never go back to the stiffer stuff.
His patients who drank eight or more glasses of beer or about the same number of stronger alcoholic beverages per week had a significantly elevated chance of having precancerous polyps or fully developed colorectal cancers.
"Beer and spirits are probably just as important as a family history of colorectal cancer when it comes to risk," Anderson said during a recent interview.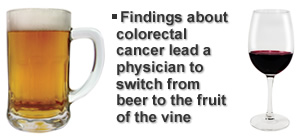 Reporting in the September issue of the American Journal of Gastroenterology, Anderson and a team of Stony Brook researchers examined 2,291 patients undergoing routine colonoscopy screenings. Patients who drank eight or more glasses a week of beer or stronger beverages were more than twice as likely to have precancers or full-blown cancers than those who drank less or who chose wine instead.
Earlier studies have suggested that alcohol has a powerful effect on the colon and increases the likelihood of cancer development because of the increased amount of aldehyde, a noxious compound that forms as alcohol is processed.
These studies also have suggested that alcohol can instigate a perilous cascade of events: DNA damage, immune system suppression and the activation of a class of proteins known as P-450 enzymes that spur the liver to produce so-called pro-carcinogens. "The take-home messages are that environment [in the colon] plays a role," Anderson said. "And alcohol is pernicious."
Wine contains a significant amount of alcohol, up to 12 percent or more by volume in some vintages. Still, the "pernicious effect" was not evident in red wine drinkers, he said.
He and his colleagues found that red wine drinkers who consumed between one and eight glasses of red wine per week experienced a decreased risk of colorectal polyps and cancers compared with those who chose stronger drinks.
Anderson attributed the difference to high levels of natural antioxidants. A key antioxidant, he said, is resveratrol, found more abundantly in darker grapes. "The wine drinkers were much healthier," Anderson said. "They exercised more; they tended to be leaner. They had adopted what I call the wine lifestyle."
Major health organizations never would recommend wine-drinking to keep cancer at bay. The American Cancer Society cautions the public to be wary of alcohol, regardless of whether it is consumed in the form of wine, beer or harder spirits.
Moreover, earlier studies focusing on wine and colorectal cancer have produced mixed results. Some found that wine drinkers had a decreased cancer risk, while others have demonstrated the chances of developing the cancer were significantly elevated.
"I don't advise my patients to drink red wine," Anderson said. "But life is all about choosing your vices. For those who do drink [harder spirits], I encourage them to switch over to red wine at least.
"Just as an aside, I think people should be aware that they can get the same benefit by drinking grape juice," Anderson said.
Copyright, 2005, Newsday. Reprinted with permission
About Our Physicians
The Stony Brook gastroenterology practice provides a comprehensive range of gastrointestinal and liver disease services, including evaluation and treatment for gastroesophageal reflux disease (GERD, including Barrett's esophagus), inflammatory bowel disease (IBD, including Crohn's disease and ulcerative colitis), colon cancer screening (colonoscopy), biliary, gallbladder and pancreatic disease, motility disorders, and hepatitis and other liver diseases.
Our practice offers a full range of advanced procedures for both diagnosis and treatment, including special expertise in endoscopic ultrasound diagnosis, fine-needle aspiration of the pancreas, bile duct and pancreatic duct and cyst drainage, laser treatment of gastrointestinal bleeding, capsule endoscopy, the latest techniques in delineating and removing colon polyps, catheter-free acid reflux testing, and endoscopic treatment of GERD.
Our gastroenterology practice is part of the comprehensive range of advanced medical and surgical services available through the University Physicians at Stony Brook-affiliated practices. Our gastroenterologists work collaboratively with Stony Brook colon and rectal surgeons, minimally invasive (laparoscopic) gastrointestinal surgeons, as well as surgical, medical and radiation oncologists, nutritionists and other specialists.
The group is comprised of six experienced university gastroenterologists, all fully trained at excellent university centers, including: